Egypt 2023: Nigeria back on track for U20 World Cup ticket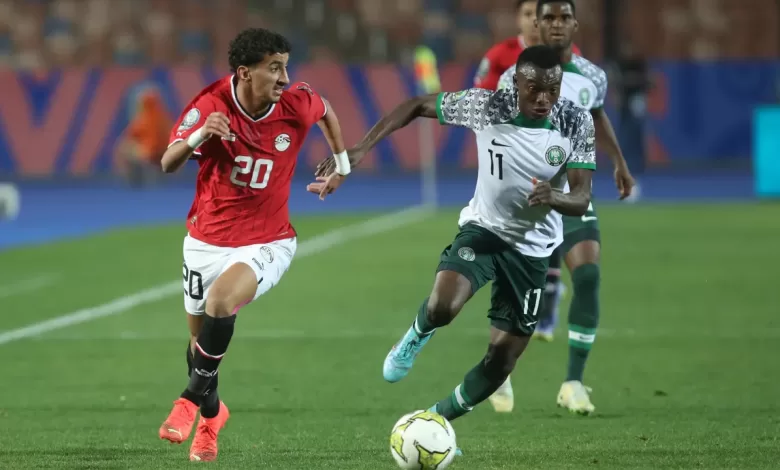 The Flying Eagles of Nigeria stunned host nation Egypt 1-0 to win their first match of the U-20 Africa Cup of Nations in Cairo on Wednesday to steer their campaign back on the rails.
The record champions of the tournament needed a towering header from left back Solomon Agbalaka in the last twenty minutes to secure the vital victory at the Cairo International Stadium.
The Young Pharaohs created numerous chances to go in front but they lacked the cutting edge to convert the opportunities.
After Nigeria lost her opening game by a lone goal to Senegal and the host nation could only putter to a scoreless draw against Mozambique, it was a given that both teams would tear at each other from the beginning. The hosts mounted the highest pressure in the first quarter-hour but shot wide when presented with the opportunity to nick it.
Amin saved twice from Ibrahim Muhammad in the 28th minute but at the other end, eight minutes later, Abdelrahman El Sayed again blasted wide in front of Chijioke Aniagboso.
Aniagboso did a tidy job throughout, including saving point-blank shots on two occasions in a ferocious second half.
Eight minutes after the restart, Ahmed Belasi could have put the North Africans ahead, but his header went wide with the goal begging. Ten minutes later, Aniagboso kept his calm to deny Rafaat Bayoumi, and two minutes later, Ibrahim Muhammad could have shot Nigeria ahead with a flash shot from the edge of the box that went narrowly wide.
Aniagboso again came up big for Nigeria in the 66th minute, with substitute Omar El Saei confident he was on to a great thing.
Five minutes later, Agbalaka's bullet header put Nigeria in front, and despite opportunities for both teams afterwards, the scoreline remained unchanged.
Senegal, who hammered Mozambique 3-0 in the earlier match, lead Group A with six points and have virtually sealed a quarter-final place. Three-pointer Nigeria stay in second place, and will be expected to overwhelm one-pointer Mozambique when both teams clash at the same venue on Saturday.
Egypt have the daunting prospect of battling Senegal, with defeat sure to mean early elimination for the host nation.