Impressive Adeleke helps University of Texas to record-breaking wins in 4x100m, 4x200m and 4x400m
Ofili anchors LSU to second place in 4x100m, Ezekiel also second in 400m hurdles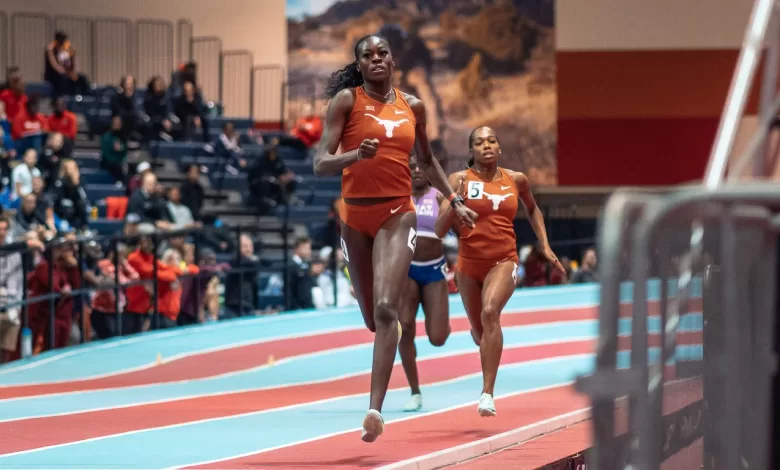 Irish-Nigerian, Rhasidat Adeleke was part of three University of Texas relay teams that won titles and set records on the final day of the 94th Clyde Littlefield Texas Relays held at her school ground, the Mike A. Myers Stadium in Austin, Texas.
Adeleke who had a great indoor season with a new 50.33 400m lifetime best as the icing on the cake seems to have transferred that phenomenal form to the outdoor season as her presence helped the University of Texas to victories in the 4x200m, 4x100m and 4x400m in one day.
Adeleke ran the second leg in the 4x200m team that broke the Texas 4×200 record with their time of econds.
With NCAA Indoor Championships' double sprint champion, Julien Alfred leading off the team, the rest of the quartet led viz Adeleke, Kevona Davis and Stacey Ann Williams raced to a 1:29.03s finish to not only set the new record but also the first University of Texas relay team to win the title since 2014.
The time is also the No. 2 time ever recorded in the NCAA.
The quartet of Alfred, Davis, Adeleke and Kynnedy Flannel followed that up by winning the Carlette Guidry 4×100 relay event in 42.83s.
According to a report on the University of Texas website, it was the first time in seven seasons the Longhorns won the event.
The Nigerian duo of Favour Ofili and Rosemary Chukwuma helped their respective University to finish second and third respectively.
Ofili anchored the Louisiana State University relay quartet of herself, Armstrong Alia , Phillips Leah and Brown Tionna to a 42.97 finish which placed them second while Chukwuma also anchored the Texas Tech University team to place third ( 43.11).
The quartet of Kennedy Simon, Adeleke, Alfred and Williams was on song again in the 4x400m event and broke the Sanya Richards-Ross relay record and Texas program record with 3:22.94.
The time ranks as number two all-time in NCAA history.
Meanwhile, Baylor University's Ezekiel Nathaniel, the Nigeria 400m hurdles record holder came second in 49.31 behind Texas Tech's Metivier Malik (49.15).
The Nigerian ran 49.14 to finish top of the semifinal classification and a repeat of that would have earned him top place.