2022 Commonwealth Games: Amusan, Brume, Ofili Are Three Top Stars To Watch In Birmingham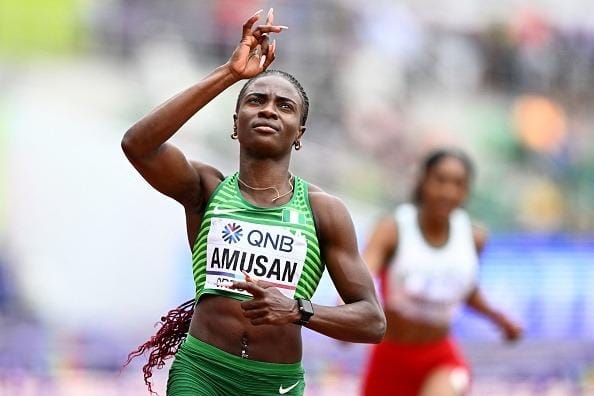 Tobi Amusan (100m Hurdles)
Tobi will certainly be the cynosure of all eyes when the athletics event of the games starts. The petite, 25 year old made history at the 18th World Athletics Championships concluded Sunday in Oregon, USA where she scorched to a 12.12 seconds world record enroute her historic gold medal win.
She is now the first, and so fa only Nigerian track and field star to set a world outdoor record and the first to be crowned a world champion. This came barely 10 months after she made history as the first Nigerian athlete to win a Diamond League trophy following her incredible, 12.42 seconds African record-setting run at the Diamond League final in Zurich, Switzerland last September.
In Birmingham, Tobi will be the overwhelming favourite to successfully defend the Commonwealth Games title she won four years ago in the Gold Coast, Australia. The Nigerian will not only be targetting a successful defence of her title but also smash the 12.65 seconds games record set by Jamaica's Brigitte Foster-Hylton in Melbourne, Australia in 2006.
Amusan came close four years ago, running 12.68 seconds to win the title.
Ese Brume (Long Jump)
One of the most consistent performers for Nigeria since she picked a bronze medal at the 2019 World Athletics Championships, Ese has made the podium in all the major events that followed viz bronze at the Tokyo Olympics last year and silver at the World Indooor and outdoor championships this year. The 26 year old will be gunning fir her first gold in any major competition since 2014 when she jumped 6.56m to win the gold at the 2014 Commonwealth Games in Glasgow, Scotland.
Missing from the last edition four years ago, Ese will be returning to reclaim the title she gave up without any defence and she is the overwhelming favourite to win.
Favour Ofili (200m)
After under performing at the World Athletics Championships in Oregon, USA, Favour will be seeking to win her first individual gold medal for Nigeria in her debut at the Games. The 19 year old will be seeking to not only become the third Nigerian to run in the final of the 200m event after Mary Onyali (1990) and Blessing Okagbare (2014), she will also be hoping become the third to get to the podium and possibly the second after Okagbare to be crowned Commonwealth Games champion.
Favour holds a 21.96 seconds personal best in the event and repeat of that in the final and the gold medal on her neck will also confer on her the title of Commonwealth Games record holder, supplanting Shaunae Miller-Uibo who ran 22.09 seconds to win the title four years ago in Australia.