2023 NCAA Indoor Championships: 4 Nigerian indoor records that may fall this weekend
Ofili, Nathaniel, Chukwuma and Ashe attempting to rewrite Nigerian athletics history book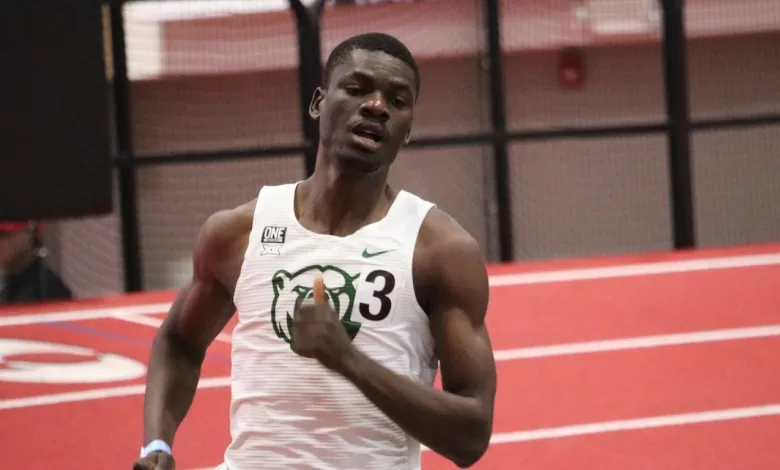 Records, they say, are meant to be broken.
This was proved right last month when, against all permutations, Dutch 400m barrier runner, Femke Bol smashed a 41 year old world 400m indoor record.
Nigerian student athletes in the USA have also proved it to be a truism. In 2021 Favour Ofili made history as the first Nigerian woman to break 23 seconds in the 200m when she ran 22.75 at the SEC Indoor Championships in Fayetteville, Arkansas.
Last year, Ofili smashed her record again not once but thrice and she has broken it again this year, running 22.36 at the Tyson Invitational in Fayetteville, Arkansas.
Ezekiel Nathaniel rose from a 51 seconds runner in 2021 to run 48.42 barely a year later to set a new Nigeria 400m hurdles record, a record that stood for 35 years!
The duo and Nnamdi Prosper in the Javelin have produced right the saying: impossible is nothing!
So, this weekend at the 2023 NCAA Division Indoor Championships in Alburqueque, New Mexico, there are Nigerian indoor records that may likely fall.
Sportsnow.com.ng takes a look at the records that are under threat of been consigned to history…
60m (Women):
All focus was on Favour Ofili to be the athlete to close in or probably break the 7.02 national record set by the duo of Chioma Ajunwa (1998) and Christy Opara-Thompson (1997).
It is however former African Youth and U20 champion in the 100 and 200m, Rosemary Chukwuma that is carrying that burden of expectation.
The 20 year old has been phenomenal this indoor season and her impressive perfromances was highlighted by the 7.09 she ran in Lubbock, Texas at the end of January. The time made her the seventh Nigerian woman to go under 7.10 seconds in the event. She is also the seventh woman to break that barrier.
This year Chukwuma has raced inside 7.20 thrice after breaking the barrier last year and who could have thought she would break 7.10 barely a year later.
60m (Men): Favour Ashe is looking more like the real deal and the man that may take Nigeria back to the top of the sprint events in Africa after storming into reckoning in 2022, running 6.51 in the 60m and 9.99 in the 100m (outdoor).
The 6.48 Nigeria 60m indoor record was one of the two targets the 21 year old Nigerian set for himself at the last SEC Indoor Championships. He was however unable to break the 6.50 barrier albeit he succeded in becoming a SEC champion for the first time.
In New Mexico, Ashe will be aiming for the double again and both are not insurmountable.First he will need to go past Texas Tech's Terrence Jones who has broken 6.50 this year (6.48) to upgrade the bronze medal he won last year to gold. And in doing that, he may likely need to break 6.50 to do it. Can he? Yes, he can!.
200m (Women): Favour Ofili will be seeking to win her first NCAA indoor title in New Mexico this weekend and may have to run faster than the 22.36 she ran last month in Fayeteville to beat University of Texas' Saint Lucia athlete, Julien Alfred to do so. Alfred is the pre-championships fastest with the 22.26 she ran at the Big 12 Indoor Championships in Lubbock, Texas last month.
It is difficult to bet against an athlete who in her season running indoors broke 23 seconds over the distance, something her, so far, more accomplished athletes like Mary Onayli and Blessing Okagbare failed to achieve in their storied careers.
400m (Men): No Nigerian would have thought about the possibility of a Nigerian breaking the 45.51 Nigeria nay African 400m indoor record Sunday Bada (now late) set on his way to winning the World Indoor Championships gold in Paris, France in 1997 after Kunle Fasasi came close in 2017 (45.57).
Fasasi took that dream away from him as Nigerian 400m runners have come short in all and every competition.
But, like he did in 2021 and 2022 when he rose from a 51 seconds (51.90) runner in June 2021 to, first 49.89 two months later and later to a 48.42 runner nine months later, Ezekiel Nathaniel has proved his performances have not been by happenstances.
The 19 year made his 400m indoor debut this year and in five races he ran inside 47 seconds thrice and 46 seconds twice including the 45.77 that pushed him to third in the Nigerian all-time list.
Suddenly, Ezekiel has raised expectations with his performances in the indoor circuit.