2023 NCAA Indoor Championships: Ashe equals personal best to rush into 60m final
Onwuzurike runs second fastest time in Nigeria all-time list to qualify for 200m final, Nathaniel also qualifies for 400m final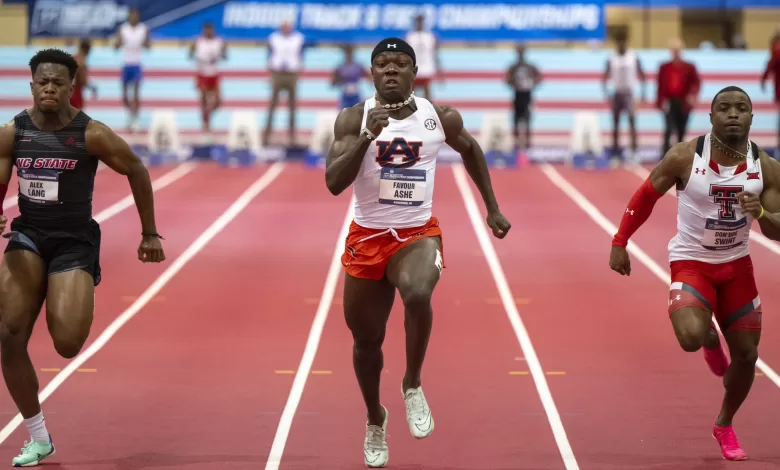 Auburn University's Favour Ashe ran the fastest time in the semifinals to qualify for the 60m final on day one of action at the 2023 NCAA indoor championships at the Albuquerque Convention Center in Albuquerque, New Mexico on Friday evening.
The 21 year old ran 6.51 to equal his personal best and top the list of eight qualifiers for Saturday's final including pre-championships fastest man, Terrence Jones of Texas Tech University who is the third fastest qualifier with the 6.54 he ran to come second behind PJ Austin (6.53) in the second semifinal.
Ashe, who is aiming to swap his bronze medal of 2022 for gold in 2023 is also seeking to become the third Nigerian man to break 6.50 in the event after Deji Aliu (6.48) and Olusoji Fasuba (6.49), the 2008 World indoor 60m champion.
The Delta state born athlete will however be the only Nigerian in the final after Alaba Akintola and Oghenebrume Godson failed to make both the two automatic slots in each of the two semifinal heats and the four fastest losers spot.
Akintola ran 6.61 to place fifth in the second semifinal while Ogehenebrume was seventh (6.69) in the same race.
In the men's 200m, Udodi Onwuzurike ran a new 20.17 lifetime best to qualify for the final. The time is the second fastest in Nigerian all-time list and has installed the 20 year old as joint favourite for the half lap gold with Tarsis Orogot of University of Alabama who also ran 20.17 to win his semifinal heat.
Nataniel Ezekiel also made it to his first NCAA indoor championships final after running 45.69 in the 400m to place third in his semifinal heat.