94th Clyde Littlefield Texas Relays: Adeleke powers University of Texas to 4×100, 4x400m final
Ofili, Chukwuma anchor respective school to final, Nathaniel opens outdoor season with 49.14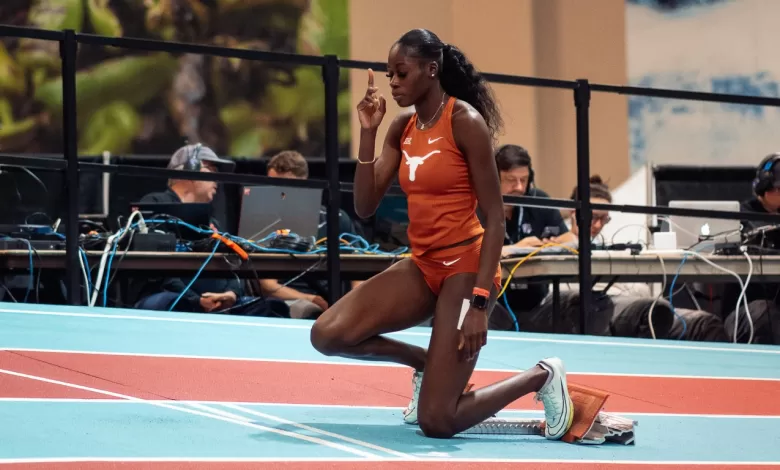 Irish-Nigerian staudent athlete, Rhasidat Adeleke will be competing in the women's 4x100m and 4x400m finals Friday at the 94th Clyde Littlefield Texas Relays at the Mike A. Myers Stadium in Austin, Texas.
Adeleke,who had a phenomenal indoor season is up and running again outdoors as she helped her school, University of Texas to qualify for the finals of the two relay events.
In the 4x100m relay, the Irish-Nigerian ran the third leg as her school relay team made up of Julien Alfred, Kevona Davis, Adeleke and Kynnedy Flannel ran 42.42, the fastest time in the semifinal heats to qualify for Friday's final.
The 20 year old who holds an 11.31 personal best in the 100m will also be in the line up on Friday as her school will be seeking to win again ahead of two Nigerian internationals, Rosemary Chukwuma and Favour Ofili.
Chukwuma anchored the Texas Tech University relay team comprising of herself, Virginia Kerley, Kiah Dubarry-Gay and Demisha Roswell to a 43.62 finish to place place in the overall classification in the semifinal.
Ofili also anchored Louisiana State University to finish third in 43.63 and will be hoping to exact her revenge from Alfred who denied her the NCAA indoor championships 200m gold earlier this month.
Meanwhile, Adeleke will also be in contention for the first position in the 4x400m event after leading off the quartet of herself, Kennedy Simon, Stacey Ann Williams and Davicia Patterson to finish second in 3:32.60 in the semis.
The one time European U18 and two time U20 champion holds a 50.53 personal best in the 400m outdoors and ran 50.33 over the distance indoors just last month.
Also at the meeting, Nigeria's record holder in the men's 400m hurdles, Ezekiel Nathaniel ran an inspiring 49.14 over the distance to qualify for Friday's final.
Nathaniel, who stunned Nigerians last year when he ran 48.42 to break Henry Amike's 35 year old, 48.50 Nigeria record in the 400m hurdles ran the fastest time in the semis to qualify for the final