African Scrabble Championship: EEAST Honours Nwali With Cash Reward Over Success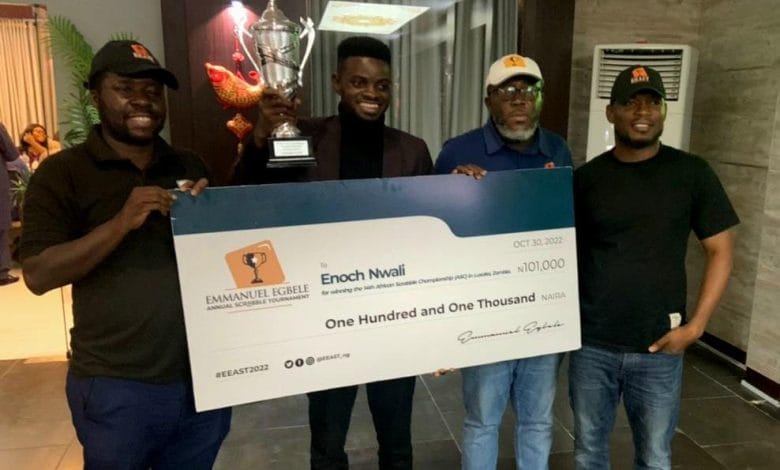 Freshly-minted African Scrabble Championship (ASC) winner, Enoch Nwali has been honoured with a cash reward by the organisers of the Emmanuel Egbele Annual Scrabble Tournament (EEAST) for his remarkable performance at the biennial tournament.
The prodigy who is the current EEAST champion, climbed to the peak of the African scrabble summit in Lusaka, Zambia with a superlative performance when he started Day One by winning all 8 rounds without dropping a single game.
That would set the tone for a memorable championship for the University of Lagos undergraduate who confirmed his new status in a dramatic fashion on the final day by defeating two-time African champion and former World Champion Wellington Jighere with a single point as he recorded 514-513 result in round 31 and subsequently won the tournament with an overall result of 25 wins, one draw and 6 defeats.
His victory over his more accomplished compatriot was similar to how he picked the 'Sophomore' edition of the EEAST in June.
Speaking at a mini-reception held at an elegant location in Lagos in his honour, the initiator of the tournament, Emmanuel Egbele said being an ambassador of the EEAST, they decided to place a value of 2,000 naira on every of the 25½ game he won which amounted to 101,000 naira.
He stated that they were very proud of his continental success.
A surprised and elated Nwali was full of commendation for the reward by the EEAST team.
'I feel very elated and it's so good to be part of the EEAST brand. You know, this is like a dream come true for me seeing myself winning the African Scrabble Championship and feel very happy to have made this brand proud in Lusaka.'
After he was presented with the cheque, Captain of Lekki Scrabble Club, Ebikeme Adowei said "first of all we are proud to be associated with him and we feel appreciating him with this gesture will encourage him to win more.'