Akintola, Isa Earn C-USA Performers of the Meet Honours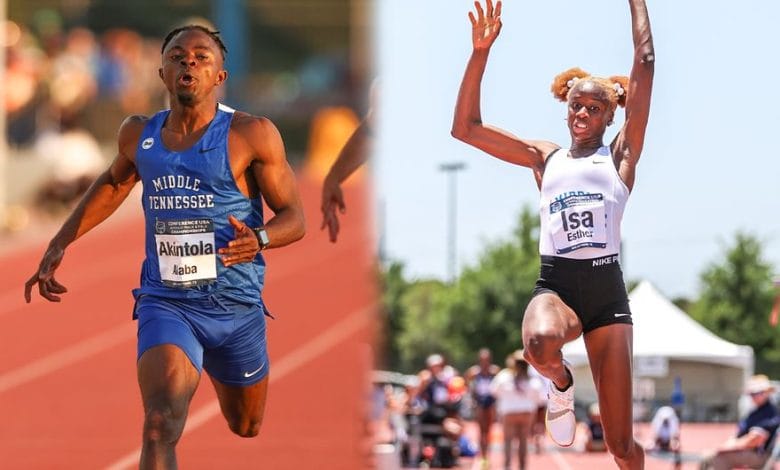 Nigerian and Middles Tennessee University duo of Alaba Akintola and Esther Isa earned Conference USA honours for their performances last weekend.
While Alaba was named Male Track Performer of the Conference USA Outdoor Track and Field Championships, graduate student Isa was named Female Field Performer of the Meet.
This is Isa's second C-USA Performer of the Meet honor this year.
Akintola continued to show why he's the best short-distance runner in the conference over the two days of competition. On a day of preliminaries, the reigning Edo 2020 National Sports Festival 200m champion coasted effortlessly to a first-place finish in the men's 100m and a second-place finish in the 200m.
His prelims win in the 100-meter dash with a time of 10.19 seconds was a stadium record.
For the finals, Akintola successfully completed a sprint double.
His 100m time of 10.04 seconds was a stadium record, Conference USA meet record, and erased a 18-year old programme record set in 2004 by Mardy Scales.
During the men's 200m event, Akintola set the new stadium record with a time of 20.36 seconds, just .02 seconds off his personal-best of 20.34 seconds set at the Georgia Tech Invitational on April 22.
Esther continued to show her abilities in jumping events, taking gold in the women's long jump and triple jump over the weekend.
During the long jump, Isa hit a personal best mark of 6.39m. She hit a outdoor-personal best mark of 13.37m in the women's triple jump. Both of her marks give her a chance to reach the NCAA Outdoor Track and Field Championships in June.