Alexander-Arnold voted Player of the Month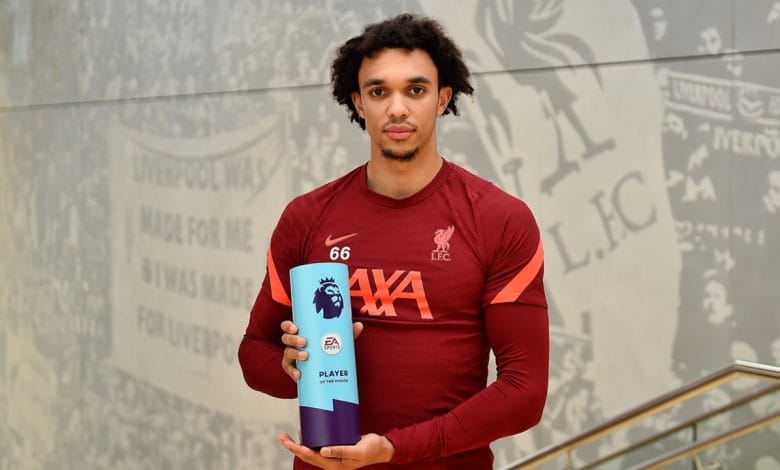 Trent Alexander-Arnold has won the EA SPORTS Player of the Month award for November 2021.
The Liverpool right-back earns his second Premier League monthly honour after producing a goal, four assists and two clean sheets across three matches.
Alexander-Arnold began November by scoring with a sublime free-kick and getting an assist in a 3-2 loss at West Ham United.
He followed that up with two assists and a clean sheet in an emphatic 4-0 victory over Arsenal at Anfield.
The England international then contributed another assist and clean sheet as the Reds overcame Southampton, once again by a 4-0 scoreline at home.
It is the first time Alexander-Arnold has earned the EA SPORTS Player of the Month award since December 2019.
The 23-year-old's success means it is the second consecutive month in which a Liverpool player has won the award, after Mohamed Salah claimed October's prize.
Alexander-Arnold topped a six-man shortlist that included Joao Cancelo, Emmanuel Dennis, Diogo Jota, John McGinn and Bernardo Silva.
Meanwhile, Rodri has won November's 2021 Budweiser Goal of the Month award with his powerful long-range strike against Everton.
The Manchester City midfielder unleashed a superb first-time effort from 25 yards out, sending the ball into the top corner at incredible speed.
It is the first time Rodri has claimed the award, while he is the first Man City player to receive this accolade since Kevin De Bruyne in July 2020.
The Spaniard's brilliant goal was chosen by a panel of experts combined with a public vote, beating seven other contenders.