Amusan: I Just Had To Prove I'm Still The World Champion!
Nigerian retains Diamond League trophy, gets $30,000 top prize and secures wild card for 2023 World Championships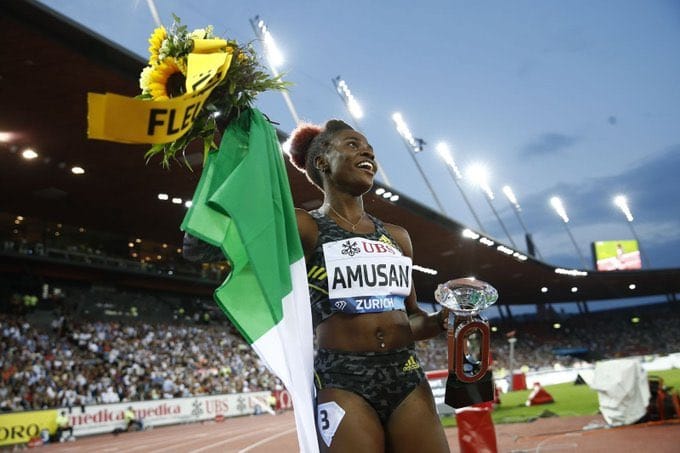 Tobi Amusan has revealed she was under pressure to prove she is still the world champion and world record holder when she filed out for the 100m hurdles event at the Diamond League final in Zurich on Thursday.
The Nigerian lost to Olympic champion Jasmine Camacho-Quinn at the Diamond League meeting in Lausanne penultimate week and this created doubts that the 25 year old could defeat the Puerto Rican again after her triumph at the World Championships in Oregon, USA.
Camacho-Quinn further laid credence to the fact that she, rather than Amusan would be the athlete to beat in Zurich when she stormed to a new 12.27 seconds lifetime best at the Allianz Memorial Van Damme in Brussels last week.
Amusan however proved her class is permanent in Zurich, scorching to her second fastest career best time of 12.29 seconds to successfully defend her Diamond League trophy.
Tia Jones, who came second behind the Nigerian last Sunday at the ISTAF 2022 in Berlin ran 12.40 seconds to come second again while Britany Anderson, the Jamaican who won silver in Oregon was third in 12.42 seconds.
Camacho-Quinn finished a disappointing fourth (12.49 seconds). This would be Amusan's sixth win in 14 appearances against the Puerto Rican.
The reigning Commonwealth Games queen was filled with gratitude to God after the race.
"I am all right, just thanks to God. I am just so grateful for the season, I am full of emotions. While you are running against the very strong field, the only thing you really want is to win, no matter the meeting record.
You are just a part of it, you just wanted to win,' said the Nigerian who revealed athletics watchers doubted if she could win again in Zurich.
"Everyone has doubted me… I just had to prove myself that I have got it. In summary, I am just grateful," she said.
Amusan believes her best is yet to come and revealed what she has to work on to become better.
"The start is still the weakest part of my race. I have still something to improve. But coming to this race, once I have got the belief, I was just running for the gold. Now, vacation – rest and then back to practice."
The year 2022 has been a historic one for Amusan.
She started the year by successfully defending her African Championships title in Mauritius early June before traveling to Paris to smash her 12.42 seconds African record.
Amusan ran 12.41 seconds at the Diamond league meeting in Paris before storming Edo City in Nigeria to rewrite the 12.63 seconds Nigerian Championships record set in 1997 by Angela Atede in Lagos.
The reigning African champion ran 12.58 seconds to add the championships record to her collections before going to the biggest stage in world athletics to achieve a legendary status.
Amusan produced one of the biggest surprises of the World Championships when she sped to a world record of 12.12 seconds in the semifinals of the 100m hurdles, following it with a wind-assisted 12.06 seconds in the final to win gold.
The Nigerian went on to win the Commonwealth Games title in a Games record of 12.30 seconds and in the process became the first Nigerian track and field athlete to successfully defend an individual title at the Games.