Amusan Seeking To Become The Second Woman To Set A World Record At The Athletissima In Lausanne
Battles Olympic champion, Camacho-Quinn in a clash of champions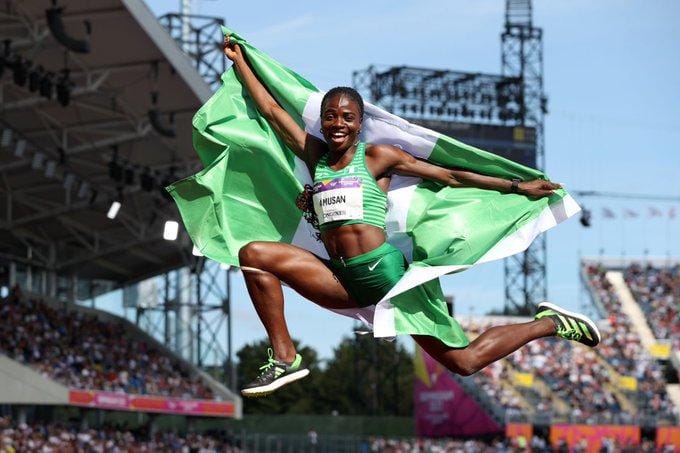 Expectations are high that Friday's Athletissima Diamond League meeting could produce a world record for the first time in
16 years and all eyes are on the women's high hurdles to lead the way.
This is because what is at stake in the women's 100m hurdles is much more than either the eight maximum points on offer or
the $10,000 top prize money.
What is at stake is a supremacy battle between the reigning world champion, Tobiloba Amusan and reigning Olympic champion,
Jasmine Camacho-Quinn.
Amusan surprised the watching world in Oregon last month when she ran an incredible 12.12 seconds to break Kendra
Harrison's 12.20 seconds world record in the 100m hurdles in the semifinals before storming to a wind-aided 12.06 seconds
to win the title
Just a fortnight before that historic night in Oregon, Amusan had, for the seventh time in 12 encounters played second
fiddle to Camacho-Quinn at the Diamond League meeting in Stockholm.
Camacho-Quinn, the Puerto Rican will be eager to set the record straight as to who is the best sprint hurdler in the world
and the Athletissima provides that huge platform for her revenge.
Amusan on the other hand has been described as the best sprint hurdler in the world by Colin Jackson, a two-time World
champion.
The Welshman also predicted the 25 year old Nigerian will run faster than the 12.12 seconds she ran in Oregon.
The Nigerian will also be eager to set the record straight as to who is better between her and the reigning Olympic
champion.
If Amusan fulfils expectations, especially that of Jackson, then she will become the first athlete to set a world record
in Lausanne since 2006 when, Lou Xiang, another sprint hurdler ran 12.88 seconds to set a new 110m world record.
The reigning Nigerian champion will also become the second woman to set a world record in Lausanne after Russia's Yelena
Isinbayeva who cleared 4.93m in 2005 to set a new world record in the Pole Vault.
Only three athletes, two men (Xiang and Leroy Burrell, 9.85s in the 100m in 1994) and one woman (Isinbayeva) have made
history of setting new world records at the Athletissima.