Amusan's many firsts on the track after Laureus awards nomination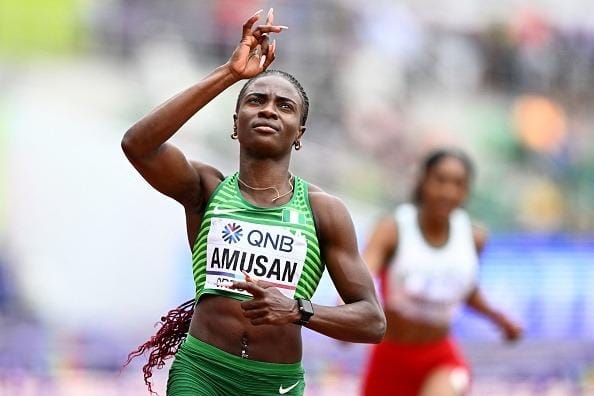 Tobi Amusan on Monday became the first Nigerian sportsperson to be nominated for a Laureus Sports Awards after the sprint hurdler was listed in the six-man shortlist for the 2023 Laureus World Breakthrough Of The Year Award.
The petite, 25 year old produced one of the outstanding performances at the World Championships in Eugene, USA last year, winning the 100m hurdles gold medal and breaking the world record in the semi-final with a time of 12.12 secs.
She became the first Nigerian world champion and world record holder in an athletics event.
Amusan's many firsts began in 2019 when she ran a 12.68 Games record to become the first Nigerian sprint hurdler to successfully defend a 100m hurdles title in Games history.
She raced to another historic finish in 2021 when she became the first Nigerian athlete, man or woman, to win a Diamond League title in the Diamond League era.
She won the 100m hurdles event in an African record time of 12.42 at the Weltklasse in Zurich, Switzerland in September of 2021.
Amusan began 2022 without any premonition she would become a reference point as far as success is defined in track and field, especially in Nigeria.
She began the year by winning the gold medal at the African Championships in Mauritius before rewriting the African record (12.41) days later.
She also successfully defended her Nigerian sprint hurdles title, setting a new 12.54 Campionships record enroute.
Amusan headed to Oregon to achieve one of the surprises of the championships. Her 12.12 seconds run in the semifinals is not only a World record but also the first and so far, only sub-12.20 returned by any high hurdler in the history of the event.
This was followed up barely a month later with her successful defence of the Commonwealth Games 100m hurdles title at the 2022 Games in Birmingham, United Kingdom.
She thus became the firrst Nigerian track and field athlete to successfully defend a Commonwealth Games title. This she did in a record-shattering manner (12.30).
Amusan ended the year on the track with another successful title defence of her historic Diamond League win a year earlier.
Outside the track, the 25 year old became the first and only Nigerian to be nominated for a World Athletics award and the first to finish in the top 5.