Another Nigerian Fingered As New Implicating WhatsApp Messages Submitted Against Okagbare In Court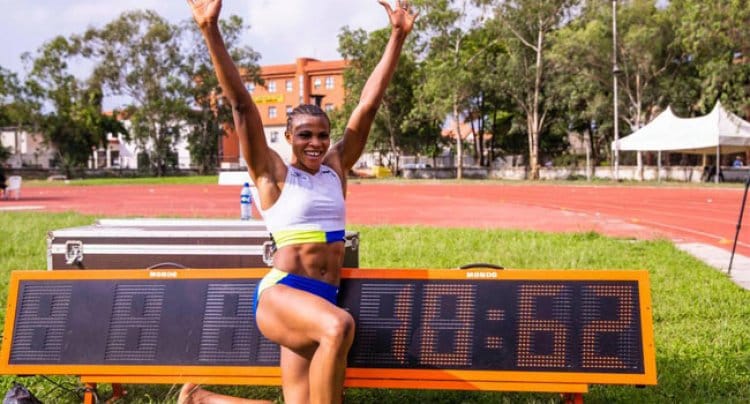 A male sprinter believed to be a Nigerian has been fingered in the doping scandal hovering around 2014 Commonwealth Games double sprint champions Blessing Okagbare following a ten-page court paper submitted by Agent Ryan Serkes of FBI before Honourable Sarah Netburn of United States Magistrate Judge Southern District of New York which not only revealed the background to the scandal but the involvement of a male sprinter.
In a voicemail Okagbare left for Erica Lira ( supplier of the banned subtances) in June last year, she allegedly arranged for him to supply both her and a male athlete with growth hormone and EPO.
"Hey Eric, I just sent you $2,500, can you confirm it via Zelle?" she said. "And also, remember I told you [Athlete-2] had hurt his hamstring, so anything that will help the hamstring really heal fast you can actually bring it as well, OK?"
In July, United States Antidoping Agency,Usada. had been contacted by a whistleblower who had found banned drugs in the Florida residence of an athlete known to Okagbare and referenced only as "Athlete-2" in the affidavit filed in the New York court.
The whistleblower, referred to in court documents only as "Individual-1", found packages containing banned drugs in a Jacksonville residence that had been occupied by the male athlete.
Described by the FBI as an associate of both athletes, they had been asked by the male athlete to enter the property to pack up his belongings and transfer them to a storage facility.
It was then that they discovered the banned drugs, contained in packages that also included Mexican drugs bearing Lira's return address. The package seemingly sent to Okagbare was labelled with a separate address.
The whistleblower took photographs of the packages, one of which was addressed to Okagbare, and passed the evidence to Usada, who shared the information with the FBI and the Athletics Integrity Unit,AIU.
Okagbare denies any wrongdoing. But by the time she returned to the US from Tokyo in disgrace, on August 2, the US authorities were waiting for her.
Officers from Customs and Border Protection "conducted a limited review of a mobile phone in the possession of Athlete-1" (Okagbare), and assisted by a special agent from the FBI "preserved copies of a series of WhatsApp messages, including a series of WhatsApp encrypted voice messages" between the Nigerian sprinter and Lira, dating back to November 2020.
In one message sent to Lira five days before that extraordinary performance in Lagos, Okagbare wrote: "So I took 2000 ui of the E [erythropoietin, EPO] yesterday, is it safe to take a test this morning?"
He replied: "Good day . . . 2000 ui is a low dosage."
To which she then replied with a message that demonstrates why whereabouts failures have to be taken seriously by anti-doping agencies. "Remember I took it Wednesday and then yesterday again. I wasn't sure so I didn't take a test. I just let them go so it will be a missed test," she wrote.
Okagbare is named as "Athlete-1" in the court documents but the details — that she ran 10.63 on June 18 — make her easy to identify. By July 19, she was training in Slovakia. Lira sent her a message: "What you did . . . is going to help you for the upcoming events. You are doing your part and you will be ready to dominate."
On the same day she received a visit from drug testers. She would discover on July 30 that the blood sample they took had been found to contain growth hormone. By then she had already won her 100m heat at the Olympics. On July 31 the AIU announced that she would not be contesting the semi-final after failing a drug test.
Using an encrypted messaging app through which they communicated, Okagbare messaged Lira in a panic from Japan. "Call me urgently," she wrote. "They said one of my results came out positive on HGH . . . I don't understand."