Arsenal 3-1 Tottenham: Jesus extends personal unbeaten run to 51 Premier League games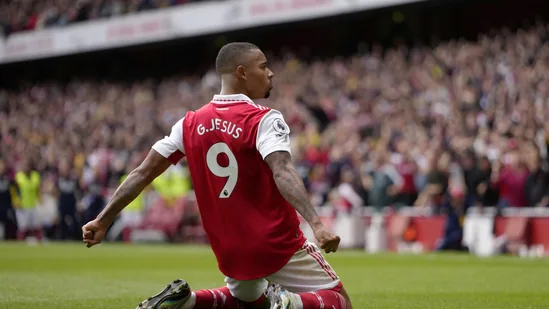 Gabriel Jesus was on target once to lead Arsenal to a deserved 3-1 defeat of north London rival, Tottenham Hotspur on Saturday at the Emirates stadium.
With the victory, the Brazilian has extended his unbeaten run in Premier League games in which he has scored to 51 games.
Jesus who has now scored five times in eight appearances for Arsenal in the competition so far this season has netted 63 times in the 51 games.
The Brazilian is delighted with both his goal and performance in his first north London derby game.
"I'm very happy, of course I want to score every game. The team showed from the first minute what we want from the game and we got it,' said Jesus.
Meanwhile, Arsenal goalkeeper Aaron Ramsdale says his side deserved the win.
"It's a tough game, the north London derby. I thought we were creating chances in the first half and we started the second exactly how we wanted. We were on the front foot and got what we deserved,' said Ramsdale.
Premier League pundit and former Tottenham coach, Tim Sherwood says Arsenal were not troubled by the visitors.
"They had 10 bodies behind the ball, Tottenham. If you don't put pressure on the opposition, especially if they're as good as Arsenal, they will punish you," he said.