Arteta: 'I Told My Players The Man United Game Is There For The Taking'
Arsenal disappointed his team didn't get the result their performance deserved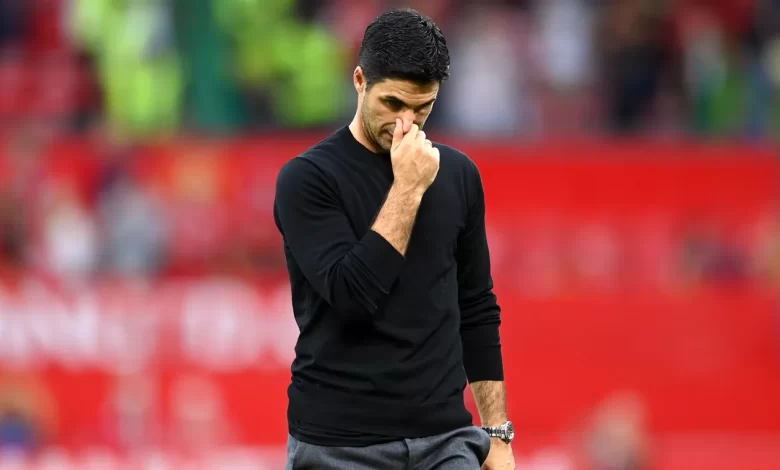 Arsenal manager Mikel Arteta has revealed what he told his players after the first half of their game against Manchester United at Old Trafford on Sunday.
The Gunners lost the game 3-1 despite dominating for over 70 minutes to surrender their unbeaten start to the season.
A debut goal from Antony and a Marcus Rashford brace saw the hosts claim a 3-1 victory, with Bukayo Saka equalising on the hour mark before some clinical finishing saw Eric Ten Hag's over the line.
Arteta expressed his disappointment that Arsenal didn't get the result their performance deserved.
"Well, I'm very disappointed that we haven't won the game because the game was there for the taking.
'We haven't won it because we lacked some discipline in certain moments to defend certain actions, and then we were involved in something in front of the opponent's goal,' he said and revealed what he told his players at half-time and despite trailing 1-0.
"We lacked discipline and we conceded the first goal when it was an action with Bruno and three vs three in the backline and we don't follow our principles and we concede the goal, which was two against one.
'After that it was all us, chance after chance, dominating the game and imposing ourselves in the way that we want to play. I said at half-time to the boys: 'the game is there for the taking'.
On the VAR's decision to rule out Gabriel Martinelli's goal, Arteta calls for consistency in the decision by VAR.
"I haven't seen the action, but what I said is that it was a soft foul, so it's just the consistency of the soft foul on Bukayo Saka from [Tyrone] Mings on the penalty last week, but it's not a penalty.
'The soft foul on Aaron Ramsdale when we conceded against Villa is a goal, so it's just consistency and there's nothing we can do now because it's too late just to be consistent."