Aruna escapes first round scare at WTT Singapore Smash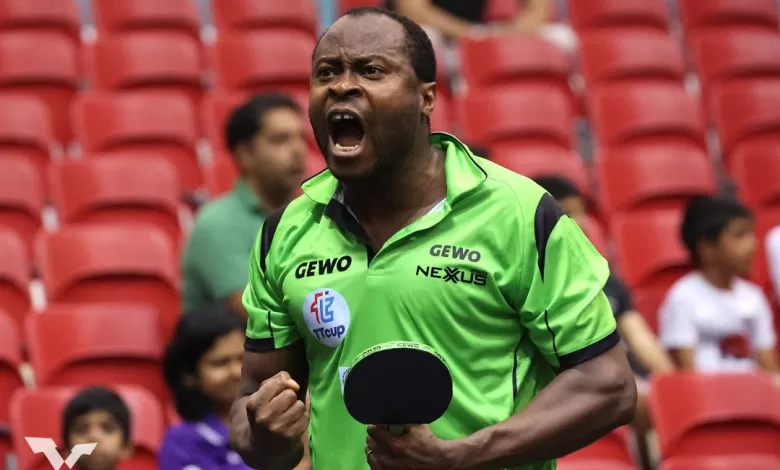 Quadri Aruna on Sunday escaped an early scare in the men's singles of the WTT Singapore Smash taking place at the Singapore Sports Hub's OCBC Arena.
Set up against a familiar opponent in Germany's Ruwen Filus and that match was a classic battle between attack and defence but it was Aruna that scraped over the line, taking the match 3-2 (14-12, 6-11, 11-3, 6-11, 11-9).
Two veterans of the global scene, it was always going to be a nail-biter. Going into the match the head-to-head stood at one win each. But that was only part of the story. It was a topsy-turvy fight for dominance as the duo exchanged games right to the very end.
The deciding game came with all the drama with the German veteran taking a commanding lead at the change of ends. It was then that the tides reversed and fortune went back in the way of the Nigerian superstar. The win ensured that Aruna roared his way to the round of 32.
"It was 5-1 (to him), and then 7-2, and suddenly I won five points in a row. That was a very good comeback and I was focusing because six or seven years ago I experienced almost the same situation against him and I knew it was not over until it's over. I kept my cool, I kept playing and in the end he made a few errors and that made a big difference," Aruna admitted.
The African champion added: "It's not just that he was a tough opponent, we were together in the same team (in the German Bundesliga) for about two years and he knows me very well. I believe it was 50-50 before the game and as we have seen, it was 11-9 in the fifth game."
With the coin flip going Aruna's way, he will now face French teenager Alexis Lebrun who edged out China's Yuan Licen in the round of 64.