Boston Celtics loss to Timberwolves "one of the poorest losses of the year"
Ime Udoka blasts defense in latest Celtics loss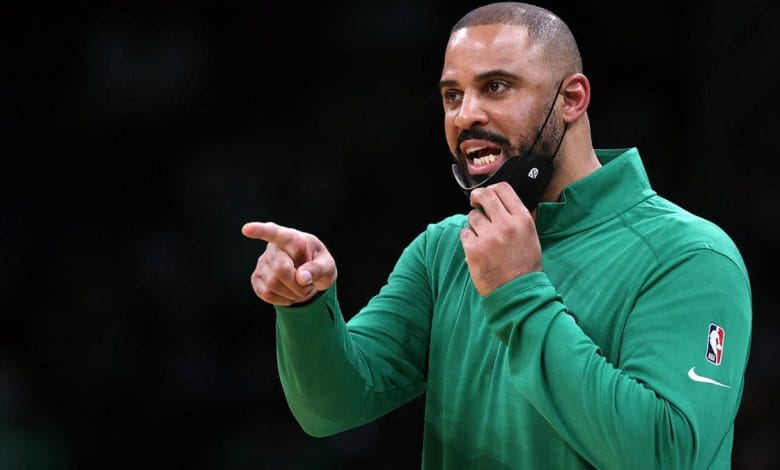 The 2021-22 season continues to devolve from bad to worse for the Boston Celtics.
For the second game in a row, Celtics witnessed a double-digit lead evaporate, this time in a 108-103 loss to the Minnesota Timberwolves at Target Center on Monday.
First-year head coach Ime Udoka offered up some of his sharpest criticism yet of the team in the aftermath, calling it one of the poorest losses of the year.
"To get carved up like we did tonight was embarrassing," Udoka said after Boston was outscored 63-47 in the second half, including 34-24 in the fourth quarter.
When the shorthanded Celtics blew a 19-point lead against the Milwaukee Bucks on Christmas, you could (almost) understand it in the context of the Bucks being defending NBA champions and possessing one of the league's greatest players in Giannis Antetokounmpo.
Sure, Boston was without Jayson Tatum and Marcus Smart, but the T'Wolves were without four of their five starters, including former All-Stars Karl-Anthony Towns and D'Angelo Russell and the top pick in the 2020 NBA Draft, Anthony Edwards.
"A team that is as depleted as we are just outhustled us late in the game," Udoka said. "It was a very undisciplined effort overall."
In their places, Minnesota received career-high scoring performances from Jaylen Nowell (29 points off the bench) and Nathan Knight, who had 20 points in his first career start.
Advertisement
Former Celtic Greg Monroe, who hadn't played in the NBA since 2019 before signing with the Wolves on Monday, had 11 points, nine rebounds and six assists in 25 minutes off the bench.
"As far as the coaching part, I've got to find a way to motivate them to be consistent," Udoka said. "We took a look at poor areas of what we did against Milwaukee, we wanted to clean those up tonight and then something else bites us in the ass — the off-ball stuff that basically hasn't been a problem all year."