Can Tobi Amusan run under 12 seconds on the 100m hurdles in Budapest?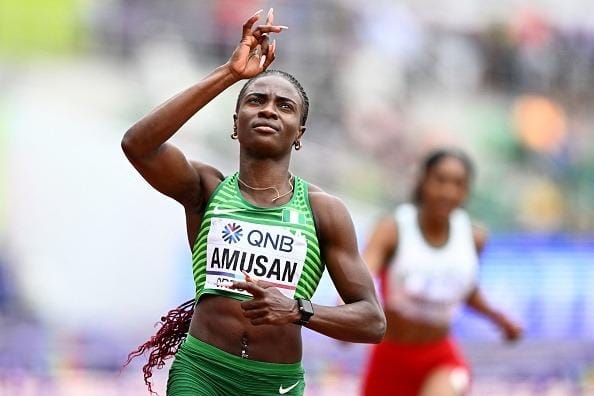 With 100,000 tickets sold and 200 days to go to the 19th World Athletics Championships in Budapest, Hungary, one of the 23 exciting questions World Athletics have put together for fans to keep an eye out for is if Nigeria's Tobi Amusan can become the first sprint hurdler in history to go under 12 seconds.
The Nigerian, 25, flew over the hurdles at the last World Championships to run a world record 12.12 in the semi-finals first and then went on to win gold in the final with an even better time.
However, her time of 12.06 was with too much tailwind for an official record.
Nigeria's first ever gold medallist is aiming to break the 12-second barrier in Budapest on 24 August. If she can do it, it will be the biggest sensation of 2023's greatest show on Earth.
Former two-time World 110m hurdles champion and record holder, Colin Jackson believes the Nigerian is capable of running 12 seconds flat and much more.
'"I said at the World Championship, I think she can go close to 12 flat. She is that good,' Jackson told Sportsnow.com.ng in Birmingham during the Commonwealth Games last year.
The Welshman added the Nigerian is primus interpares among her colleagues at the moment.
" I've been saying to everybody that if you just put your hand over where Amusan was and the rest of the field, they were running really well. And she was metres in front and that for me just says the class of the act", Jackson explained.
Jamaican hurdler Britany Anderson who won the silver medal behind Amusan in Oregon believes someone will go below 12 seconds in the event one day.
"The girls are really competitive so anything can happen. The hurdles has been so competitive these last few years. The girls have shown up and shown out and we can do so much more. The event, to me, is one of the best out here because it's so technical. We have to keep the stride and the focus while going so fast," Anderson said.
Will it be Amusan? The answer will be provided in Budapest.