Chukwuma chases NCAA gold, World Championships entry standard to New Mexico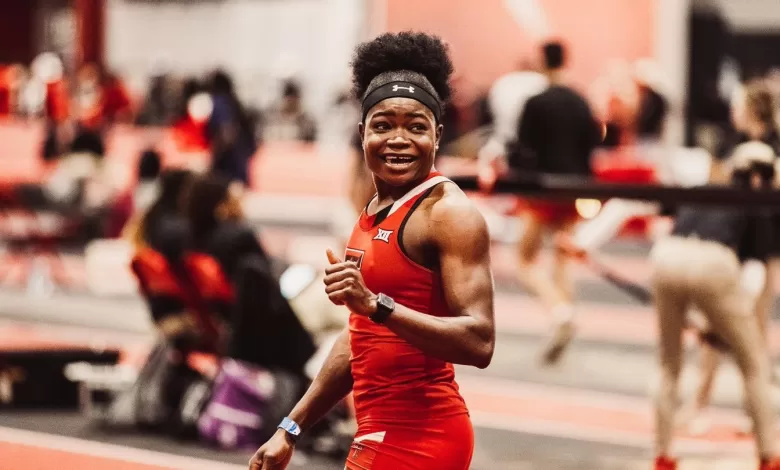 Commonwealth Games 100m finalist Rosemary Chukwuma will not only be seeking to become the first Nigerian woman in recent memory to mount the podium as the 2023 NCAA 200m indoor champion, she will also be aiming for the 22.60 entry standard for August's 19th World Athletics Championships in Budapest, Hungary this weekend at the Albuquerque Convention Center in Albuquerque, New Mexico.
The 21 year old has already met the entry standard for the 100m event and if she is desirous of running the 100/200m in Budapest, then she will feel she can achieve it as early as this month.
Chukwuma holds a 22.33 personal best in the event which should have qualified her to the championships but she ran the time in May last year, outside the qualifying period which runs from July 31, 2022, to July 30, 2023.
The fomer African Youth and U20 100/200m champion raced close to meeting the standard last month when she ran 22.68 to win the 200m final 2 event at the Big 12 Indoor Championships held at the Sports Performance Center in Texas Tech University in Lubbock, Texas.
Chukwuma's compatriots Favour Ofili and Ezinne Abba will also be competing in the 200m in Albuquerque.
While Ofili, courtesy the 22.36 new Nigeria and African 200m indoor record she ran last month in Fayetteville, Arkansas has met the entry standard, Abba, with a 22.85 personal best in the half lap event became the third Nigerian to run inside 23 seconds in the event with the 22.99 she clocked late last month in Lubbock, Texas.
Abba will also fancy her chances of racing herself into Budapest in at the Albuquerque Convention Center in Albuquerque.