Cristiano Ronaldo Jr. signs for Manchester United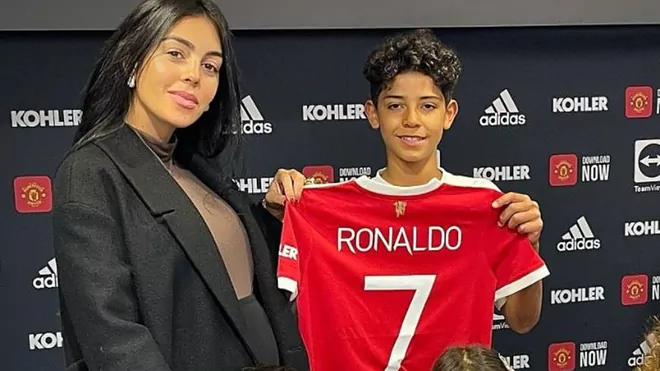 Cristiano Ronaldo Jr. is following into his father's footsteps as the Portuguese star's eldest son has officially joined Manchester United's academy at the age of 11.
Ronaldo's partner Georgina Rodriguez took to Instagram to publish a picture of Cristiano Ronaldo Jr. holding a Manchester United shirt featuring his father's No.7 at the back.
"Pursuing our dreams together," wrote Georgina. "Mum loves you."
Cristiano's son was presented by the club along with Gabriel, another talented youngster who already has more than 30,000 followers on Instagram.
A few days ago, the Portugal international uploaded some photos of him training with his son, who was wearing a Manchester United training top.
"Present and future," read the caption.
Back in 2020, Ronaldo was uncertain on whether his son could pursue a career in football due to his nutritional preferences at the age of 10.
"We'll see if my son will become a great footballer, he's not there yet," Cristiano said at the Global Soccer Awards ceremony.
"Sometimes he drinks Coca-Cola and Fanta and eats crisps, and he knows I don't like it.
"Sometimes I tell my son to take a dip in cold water to recover after a run on the treadmill and he says 'Dad, it's so cold there'. It's normal, he's 10 years old."