Defiant Anthony Joshua Not Quitting Boxing, Says: 'I'm A Fighter For Life'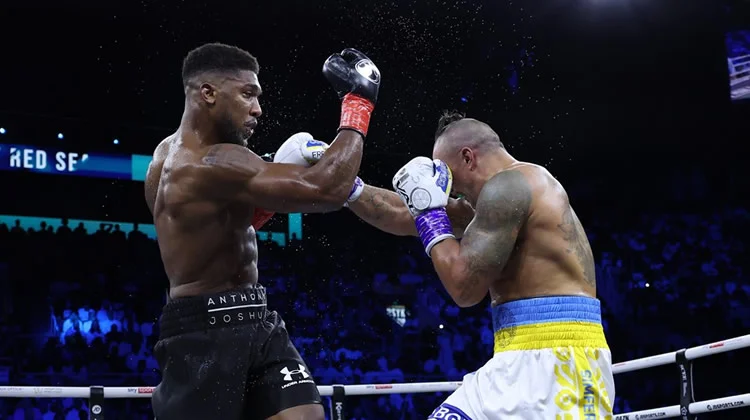 A defiant Anthony Joshua has no intention of quitting boxing after suffering another defeat by Oleksandr Usyk.
Joshua was seeking to become a three-time heavyweight world champion in Saudi Arabia on Saturday night, delivering a much-improved display after a chastening defeat by the Ukrainian at the Tottenham Hotspur Stadium last September.
However, it was still not enough to take down the masterful Usyk, who triumphed via split decision to remain unbeaten, retain the WBA (Super), IBF, WBO and IBO titles, pick up the vacant Ring belt and set up a potential lucrative undisputed showdown with WBC champion Tyson Fury.
The stakes had been incredibly high for Joshua in the biggest fight of his illustrious career to date in Jeddah, with the 2012 Olympic gold medalist acknowledging before the high-profile contest that a third professional loss could spell the end.
However, Joshua, who turns 33 in October, appears to have no plans to call it quits anytime soon as he resolved that he would eventually become a champion for the third time and even claimed that he wants to fight quickly again later in 2022.
"I'm a fighter for life, the hunger never dies," he said at his post-fight press conference. "I want to get back out in November or December. I will become a three-time world heavyweight champion."
Joshua faced strong criticism after his rematch with Usyk, having tossed two of his opponents belts out of the ring and tried to storm backstage before grabbing the microphone and embarking upon a shock, expletive-laden outburst at the King Abdullah Sports City Arena.
Explaining his post-fight behaviour that seemed so out of character, Joshua said: "I was mad at myself. Like anyone when you're angry, you do mad things so when I came back, I just spoke from my heart.
"Tonight there was a little crack in my armour and you just saw me upset."
Joshua became tearful, covered his face and was consoled by promoter Eddie Hearn to a round of applause when asked if he could be proud of his efforts against Usyk.
"Am I proud of myself? It's really, really hard for me to say I'm proud of myself," he said. "I don't feel anything. I'm just upset, really, deep down in my heart."