Djokovic overpowers Kyrgios to win seventh Wimbledon title, 21st major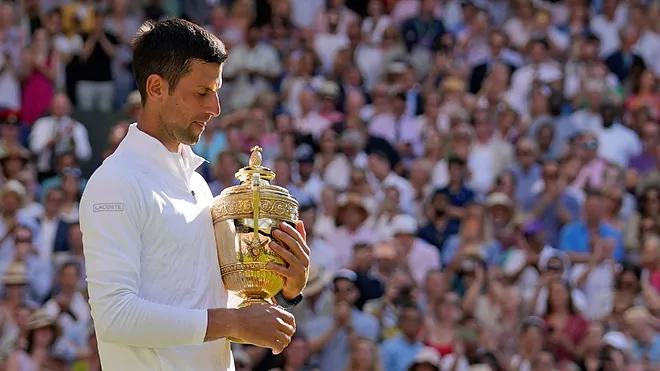 Novak Djokovic has won Wimbledon for a seventh time after defeating Nick Kyrgios 4-6, 6-3, 6-4, 7-6 on Sunday.
The victory means that he draws level with Pete Sampras on seven Wimbledon titles, with only Roger Federer (eight) having won more.
The first two games were a warning of the spectacle to come, with both players consistently hitting serves in excess of 200 kilometres per hour.
They matched each other stride for stride until the Australian made the break in the fifth game, after a double fault from the Serbian, as Kyrgios went on to win the first set.
In the fourth game of the second set, it was Djokovic's turn to break his opponent's serve with the help of the net before extending the lead to 4-1, and went on to restore parity in the match.
The pair matched each other deep into the third set at 4-4 but, just when Kyrgios looked to be putting pressure on Djokovic by leading 40-0 on his serve, he lost his head and the Serbian turned it around for a crucial break. And holding his own serve, it was 2-1 in sets to Djokovic.
The fourth and decisive set went all the way to a tie break and, after some early points from Djokovic, Kyrgios against lost his cool.
The Serb opened up a five point advantage (6-1) and despite a mini-revival with two points of his own by Kyrgios, Djokovic held his nerve and claimed the title.