Esepor, Afonja, Sniper Boast as GOtv Boxing Night Holds Saturday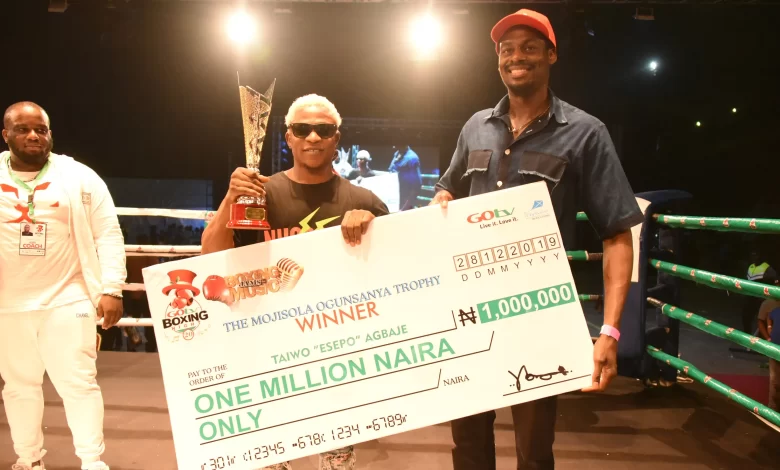 Boxing fans waiting to see Taiwo "Esepor" Agbaje return to GOtv Boxing Night will have their prayers answered as the event holds on Saturday at the Indoor Sports Hall of Teslim Balogun Stadium Lagos.
Esepor, the West African Boxing Union (WABU) featherweight champion, recently returned to Nigeria from the UK where he has lived and fought undefeated for three years.
Esepor, who will take on Ghana's Emmanuel "Agogo" Mensah in an international challenge bout, has declared that his opponent will have a torrid night and will return to his country with a badly damaged face.
"Mensah will be messed up. Take it from me. His face will be messy. I need to do it for my fans, who have wanted me to return to GOtv Boxing Night. I'm back and will repay their affection for me by showing Mensah he made a mistake by accepting the fight," said Esepor.
Abolaji "Afonja Warrior" Rasheed, another returning big name, who is also making a return to the show, has promised a comeback with a bang when he takes on Jafaru "Tanko" Suleiman in a super welterweight challenge bout. The Kwara-born boxer, who made two unsuccessful bids for the Commonwealth middleweight title in London, said Suleiman will face real fire in the ring.
"This is my first fight in a while, and I intend to make it good for my fans. Suleiman? I don't even know him, but he will suffer," he said.
Equally full of boasts is rising welterweight boxer, Kabiru "KB Sniper" Salawu, who has warned his opponent, Yusuf Ogunbunmi, that he is as dangerous as the Sniper pesticide. They face each other in a national welterweight challenge.
"Sniper is dangerous to cockroaches and other pests. Ogunbunmi is a cockroach, and this Sniper will finish him off. There is a reason I'm called Sniper and it is because I finish opponents off very quickly," he bragged.
Eight bouts are billed for the event, with one more featuring another returnee, Prince "Lion" Nwoye against Funso Moshood in the lightweight division.
Also in action is Stephen "Freeman" Kadima, winner of the Mojisola Ogunsanya Memorial Trophy at the last edition. He will face Muritador Monyasahu in a cruiserweight bout.
In other lightweight bouts, Barthlomeu Abuchi and Samuel "African Mayweather" Adebayo face each other, while Ayobami "Latest" Azeez and Sodiq "Golden Boy" Oyakojo clash. Tosin "Soja Boy" Osaigbovo will face Tajudeen Amusa in a super bantamweight challenge.
The best boxer of the night will go home with N1million cash prize attached to the Mojisola Ogunsanya Memorial Trophy, while the runner-up will win N500,000.