Europa League Final: Okocha wants Frankfurt to beat Rangers
Bundesliga legend says: I can't wait to see them celebrate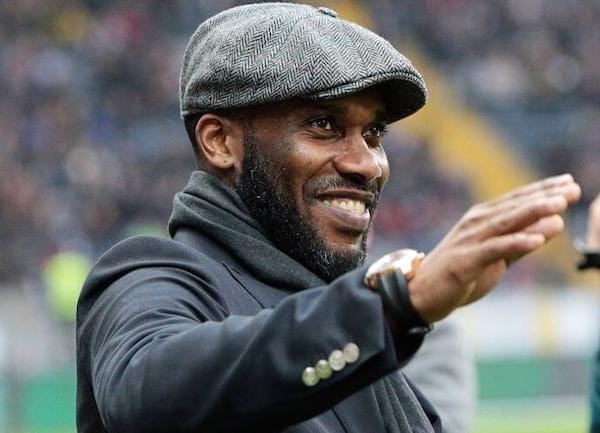 What does this game mean to you personally to see Frankfurt in the final?
It means the world – I am an Eintracht fan and I know how important it is for the fans because they have waited so long to be able to witness this magic game.
I'm so happy for the club, the players, the fans and hopefully, they will do us the favour of winning the final!
What makes the Frankfurt fans special?
They love their club – they are so passionate, and they really get involved. They support the club with all their heart, and it is there for all to see. I think there is a special bond with the club.
We saw how important the fans are for the team. In Barcelona, in London, the fans were more than the 12th man. It was amazing to see the kind of support they gave to the team.
And it is always good as a player to feel like you're playing at home, even when you're playing away. These fans always make you feel like you're at home and it is something special that they have brought to the Europa League.
What will be the secret to success in Seville?
I think it is all about the team spirit and the work ethic of the team. They don't really rely on one person – of course there are some players that are there to score the goals or create the chances, but their main strength is being a team.
They work as a unit – there is no one player who is held above others – they all work hard as a team, and for the team.
What would Champions League football mean for Frankfurt?
It is massive. It would be a dream for them to return and they have a great chance to qualify now. Of course it will be difficult – we should not underestimate Rangers – but it would be huge for Frankfurt to qualify for the Champions League.
What do you expect from Rangers on Wednesday?
They have put in a lot to get to this stage – like Frankfurt their form in the league dropped as well. But they have a manager who has played at the highest level, which is great for players.
It is like they have a role model that they can look up to. Having said that, at the end of the day, it is all about the players and they are a good side. But for me, of course, Frankfurt is the favourite.
What advice would you give to these players?
Players are used to these scenarios – they often travel away from home, and it is part of the game, it is why we are professionals. These situations often come up and you must deal with it the best way you can. There can be no excuses here because it is the same for both sides.
All I can say is that these players should give everything they've got. Make sure you prepare in the right way and give 200% so you have no regrets after the game. If you give it your all, and it's not enough, you can go home with your head held high, knowing you gave it everything. My advice is to give everything on the day.
What is your prediction?
It will be a tough one, but Frankfurt should go and try and dominate the game. The first goal is so important, rather than trying to chase the game. They should trust in their ability and go for it! I wish Frankfurt the best of luck, and I can't wait to see them celebrate!