Chukwuma runs 11.21 to place 3rd, Abba makes 4x100m history with University of Texas
Oghenebrume leads LSU to victory, Ese Brume's team places seventh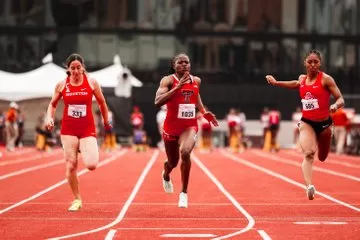 Rosemary Chukwuma ran a wind-legal 11.21 to finish third behind Mississipi University's McKenzie Long (11.00) and University of Kentucky's Anthaya Charlton (11.13) in the 100m final at the 95th Clyde Littlefield Texas Relays in Austin, Texas on Saturday evening.
The Nigerian, 21, was expected to be the main challenger to Long after the University of Mississipi sprinter stormed to a wind-aided 10.80 finish in the semifnals with Chukwuma running an equally wind-aided 11.08.
While Chukwuma failed to make hay at the Mike A. Myers Stadium in Austin, 'home girl' Ezzine Abba made history with the University of Texas 4x100m relay team.
Abba ran the second leg to help the Longhorns run an inspired 42.00, a new 4x100m collegiate and meet record previously held by
Louisiana State University.
2023 NCAA indoor championships' 60/200m champion, Julien Alfred ran an incredible opening leg to set the Longhorns on the path to a record-setting finish.
Abba also ran a great second leg before handing over to Lanae Thomas with Kevona Davis anchoring the team to finish first.
Louisiana State University, LSU, without Favour Ofili could only come third (43.30) behind University of Kentucky relay quartet who ran 42.81 to finish
second.
Amarachukwu Obi anchored University of Alabama to finish last (ninth) in 44.94.
In the men's version, Godson Oghenebrume anchored the LSU to place first in 38.53 ahead of University of Iowa (38.70) and University of Tennessee (3885) who
finished second and third respectively.
Meanwhile, Ese Brume and her Athletics Texas' 4x100m relay team failed to sparkle as they came in last (seventh) in 44.07 in the Women's 4×100 Invitational
relay race.
The race was won by the star-studded USA relay Gold team of Melissa Jefferson, Abby Steiner, Jenna Prandini and Aleia Hobbs who stormed to a new 41.75
meeting record and world lead.