Favour Ashe leaves University of Tennessee for Auburn University
Nigerian to be coached by former World 100m record holder Leroy Burrell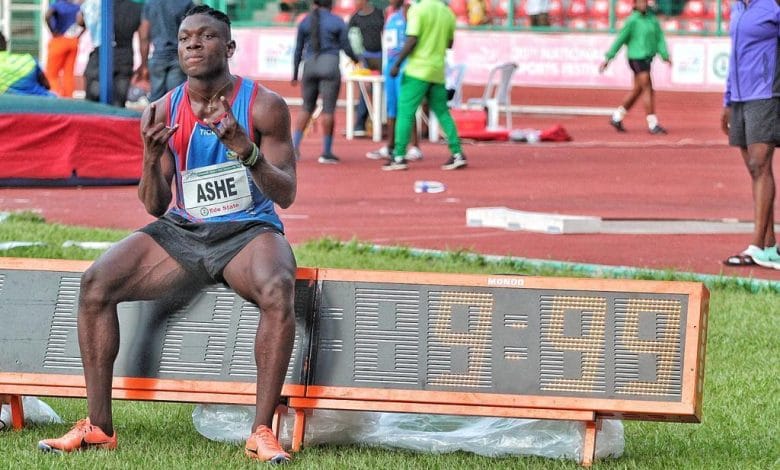 Reigning Nigeria 100m champion Favour Ashe has moved to Auburn University in Alabama to team up with former World record holder, Leroy Burrell who is the head coach at the university.
The 20 year old competed for University of Tennesssee last season and earned United States Track and Field Coaches Association first team All-America honours with his third place finish in the 60m event at the NCAA indoor championships.
He also set the Tennessee Freshman Record in the men's 60m event with the 6.51 seconds he ran at the indoor championships.
Outdoors, Ashe also earned a first team All-America honours in the 100m and 4x100m events. He finished second in the 100m (10.08 seconds) at the NCAA outdoor championships and fourth in the 4x100m race.
The Nigerian could not however make his incredible feats at the NCAA circuit count at the World Championships and the Commonwealth Games.
In the former he could not go beyond the semifinal stage while in the latter, he also ended up as a semifinalist.
With his switch, Ashe, who won his first 100m title at the Nigerian championships in Benin city, Edo state in June will be hoping to benefit from the huge experience of Burrell, a former world record holder in the 100m event (9.85s).
Burrell joined Auburn University after spending 23 years as head coach at his alma mater, the University of Houston, where he led the programme to 41 conference championships and coached over 150 All-Americans.
He also established himself as one of USA's premier coaches.He was named Conference USA Coach of the Year 23 times and American Athletic Conference Coaching Staff of the Year 11 times.
In recognition of his outstanding career as a world-class sprinter and collegiate coach, Burrell was inducted into the Philadelphia Sports Hall of Fame in 2008 and the Southwest Conference Hall of Fame in 2019.