Favour Ofili scorches to new 22.46s new African 200m indoor record
Rosemary Chukwuma sets new 7.17s meeting record to win 60m title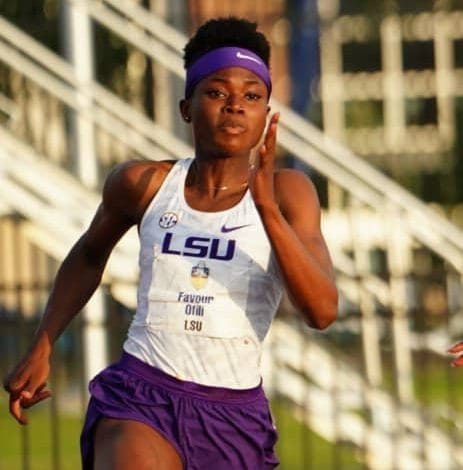 Barely 24 hours after she ran 22.61s to rewrite her 22.71s African 200m indoor record set early this month in Albuquerque, New Mexico, Favour Ofili was in devastating form again as she ran a new 22.46s personal best to set a new African record.
The 19 year old could not however beat World leader in the event, Aby Steiner who also raced to a new 22.09s world lead, meet and SEC championship record.
Ofili came in second behind the University of Kentucky student at the Championship held at the Bryan-College station, Texas.
The World U20 200m bronze medallist made up for her inability to make the podium in the 60m earlier in the evening, running 7.26s to place sixth.
Ofili has now dipped inside 23 seconds seven times in one year and remains the only Nigerian and second African after Ivory Coast's Murielle Ahoure to break the 23 seconds barrier.
The time has now catapaulted her to second on the world list for the year behind Steiner and 16th in the world all-time list.
Also on the same evening, Rosemary Chukwuma ran the race of her life to win the 60m event at the Big 12 Championship held at the Harry Hoak Track in Iowa.
The 20 year old ran a new 7.17s personal best and meeting record to win the race for her school, Texas Tech University.
The time ties the national lead ran by Ofili early this month in Albuquerque, New Mexico and shoots her up to joint ninth in the Nigerian all-time ranking for the event.
In the 200m, she could only run 23.45 seconds to place fifth.
Earlier on Friday, Ruth Usoro won the long jump title for the third time in a row for Texas Tech with a leap of 6.59m.