Guardiola: Haaland has incredible instincts and was born to score goals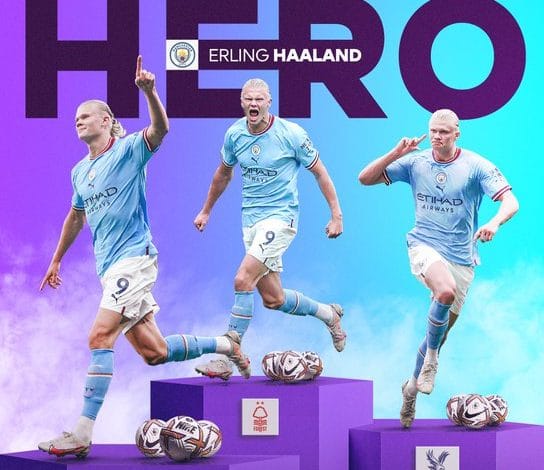 Pep Guardiola says Erling Haaland has incredible instincts and was born to score goals after the Norwegian score thrice in Manchester City's annihilation of city rivals, Manchester United at bthe Etihad on Sunday.
The Norwegian also set a new mark as the first player in Premier League history to score a hat-trick in three consecutive home games in the competition.
Guardiola says the 22 year old is only continuing to do what comes naturally to him – scoring lots of goals.
"I say it many times and I will say again – what Erling is doing he did in Norway, Austria and Germany," Guardiola told the club's official website.
"The quality we have alongside him helps him score, but what he is doing I didn't teach him.
"He has incredible instincts. It comes from his mum and dad. He was born with that."
Guardiola says he wants the Norwegian to do more than score goals for the side.
Haaland had a hand in five of Manchester City's six goals against Manchester United (3 goals, 2 assists), the most goal involvements by a player in a single Premier League Manchester derby.
'What I like was in the last period of the game, he was involved. I want him to be involved.
'He became a player to score goals, but I want him in contact with the ball.
'I like him being part of those situations.