Haaland on course to score 102 goals this season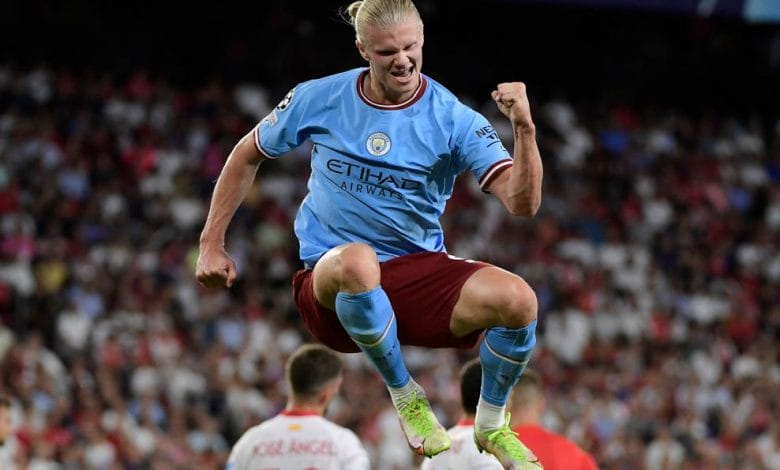 Liverpool legend Michael Owen says Manchester City striker Erling Haaland will break all known records in the Premier League after the Norwegian's incredible goascoring spree in his debut season in the competition.
The forward extended the scoring record to the UEFA Champions League and experts feel the 22 year old is on course to finish the season on 102 goals across all competitions if he sustains his current strike rate, game time and reaches every final at club level.
Haaland scored an outstanding acrobatic effort to help Manchester City come from behind to beat Borussia Dortmiund 2-1 in the Champions League on Wednesday night.
He also scored a brace in the 4-0 defeat of Sevilla and is currently ahead of Barcelona's Robert Lewandowski and Paris Saint-Germain's Kylian Mbappe in the competition's scoring charts with his three goals.
Haaland also tops the goal chart in the English Premier League with 10 goals in just six appearances, four clear of Fulham's Aleksander Mitrovic in second place.
He became the first player in Premier League history to score nine goals in his opening five appearances in the competition, surpassing the previous record of
eight strikes by Micky Quinn and Man City legend Sergio Aguero.
With his back-to-back hat-tricks aagainst Newcastle and Nothingham Forest, Haaland also broke another record as the first player to score two hat-tricks in his opening five games in the Premier League.
Should the fromer Borussia Dortmund star continue his current strike rate and play in every minute of every match in both the Premier League and Champions League, the Norwegian would net a remarkable 113 goals this season.
According to Opta Joe, Haaland's strike rate of 1.86 goals per game is currently the best of any player across Europe's top-five league to have played at least 108 minutes this term.