Haaland on course to threaten several Premier League goalscoring records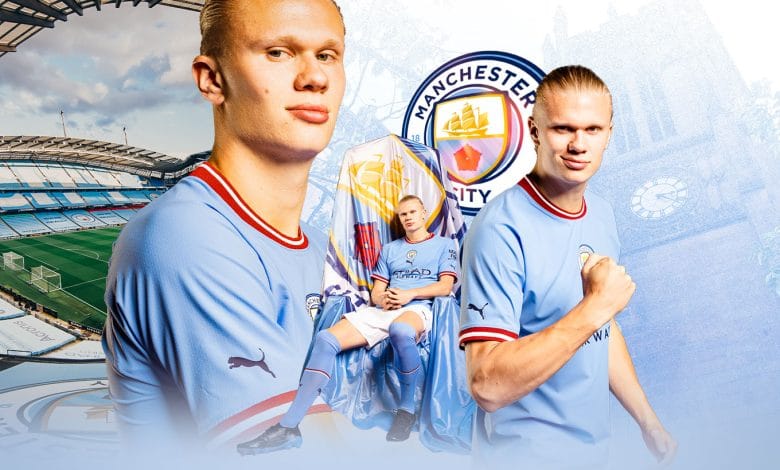 Erling Haaland is well on course to threaten several Premier League goalscoring records as well as claim the Golden Boot.
Having struck 11 times from just seven matches, the Manchester City striker has set a pace that, if maintained, would bring more than 50 goals in the season.
Haaland's closest challengers are Harry Kane and Aleksandar Mitrovic, with six goals apiece.
Indeed, while this pair's rate of goals is overshadowed by that of Haaland, it would be enough for them also to break the record for the highest number of goals scored by a player in a 38-match season.
That is currently held by Mohamed Salah, with 32 goals in 2017/18 for Liverpool.
Haaland's present scoring rate would also eclipse the overall Premier League record of 34 goals, jointly held by Andrew Cole for Newcastle United in 1993/94 and Alan Shearer, for Blackburn Rovers the following season, when clubs had four more matches in a season.
Haaland can also become just the third player to win the Golden Boot in his debut top-flight season, excluding the inaugural 1992/93 campaign. He would emulate Cole and Kevin Phillips.
Another record that is under threat is for scoring in the most Premier League matches within one season. That mark again belongs to Cole, who struck in 26 of 40 matches he played for Newcastle in 1993/94. Haaland has scored in six of his seven matches.
Then there is also the record for most consecutive fixtures scored in.
Haaland has found the target in his last five matches and will need to score in his next six, if he is to equal Jamie Vardy's record run of 11, which was set for Leicester City back in their title-winning season of 2015/16.