Home-Based Stars Godless, Adeshina Make Top 100 Ranking In 100m, High Jump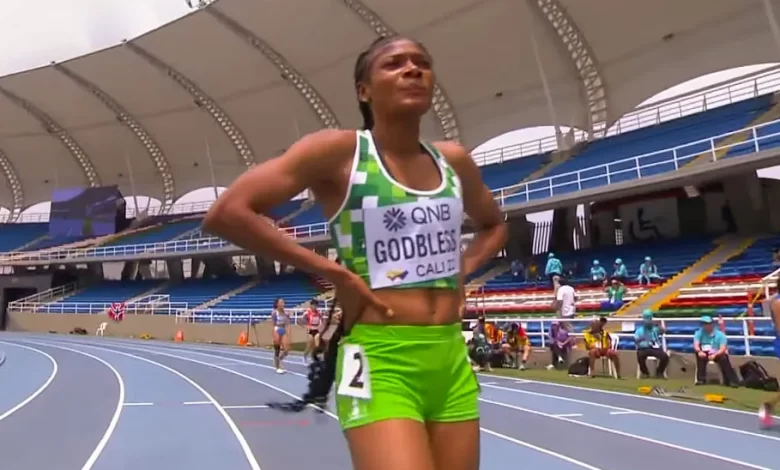 Sprinter Tima Godbless and high jumper, Temitope Adeshina are the only home based athletes who have been ranked among the top 100 in their respective event after World Athletics released the latest overall and events weekly ranking Wednesday.
Godbless is ranked the 63rd best sprinter in the world so far this year while Adeshina, the reigning Nigeria queen of the vertical jump is ranked the 83rd best.
The former's profile rose in geometrical proportion this year after setting new personal best twice in the 100m.
The 18 year old was a 12.5seconds runner just three years ago but improved to 11.48 seconds in 2021 and started 2022 with the 11.51 seconds she ran at the 1st AFN All Comers competition in Benin City, Nigeria in March.
Godbless saved what was initially thought would be her best for the year for the biggest athletics event in Africa, the African Championships in Mauritius where she scorched to a new 11.25 seconds personal best in the third semifinal of the 100m event.
Described as a raw but very promising talent capable of running a 10.8 seconds by Rotimi Obajimi, a former technical director of the Athletics Federation of Nigeria and World Athletics course director, Godbless proved she was born to excel at big ocassions.
Returning to the World U20 stage after failing to make it to the 100m final a year earlier in Nairobi, Kenya, Godbless stormed to an incredible 10.09 seconds finish in her opening heat at the World U20 championships in Cali, Colombia.
That performance, a new personal best, catapaulted her to number 12 in the Nigerian all-time top list and ensured she secured her highest ranking score of 1180 for a 1202 total ranking points.
Adeshina also had a near stellar season after starting the year with 1.75m, her second best career height ever at the 2nd AFN All Comers competition in April in Lagos.
She improved two months later to 1.79m, just one centimetre outside her lifetime best to place second at the African Athletics Championships in Mauritius.
The 23 year old set a new 1.88m lifetime best later that month to secure her first Nigerian championships title.
The performance got her on the plane to Birmingham for the Commonwealth Games where her 1.81m height did not take her past the fifth position in the final classification.