Ime Udoka apologises for letting Boston Celtics down, accepts season-long suspension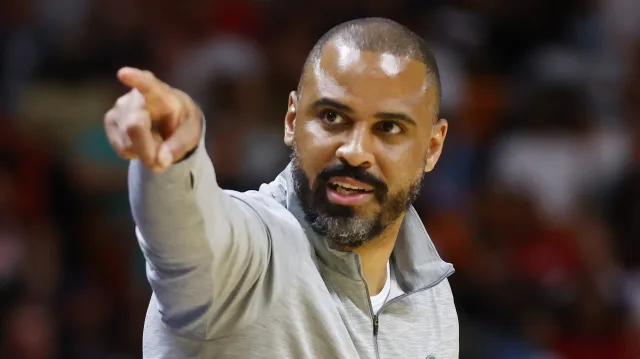 Suspended Boston Celtics coach Ime Udoka has apologised to the team following his official suspension was announced late Thursday night.
"I want to apologize to our players, fans, the entire Celtics organization, and my family for letting them down," Udoka wrote in a statement.
"I am sorry for putting the team in this difficult situation, and I accept the team's decision," the statement continues. "Out of respect for everyone involved, I will have no further comment."
The NBA team suspended Udoka in an official statement on Twitter Thursday.
"The Boston Celtics announced today that the team has suspended Head Coach Ime Udoka for the 2022-23 season for violations of team policies," the statement reads.
"A decision about his future with the Celtics beyond this season will be made at a later date. The suspension takes effect immediately."
Udoka is a former professional basketball player who has had a successful second career as a coach in the NBA. He spent seven years with head coach Gregg Popovich at the San Antonio Spurs, with the team winning a championship in 2014.
Since leaving the team in 2019, Udoka served as an assistant coach for the Philadelphia 76ers and Brooklyn Nets. He joined the Celtics in 2021 as a head coach and led the team to the 2022 NBA Finals in his first year at the helm. This was set to be his second season with the franchise.