Immobile: Osimhen won't score more than 19 goals in Serie A this season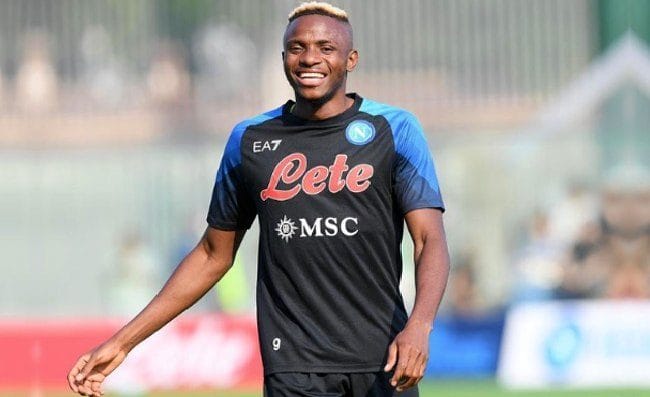 SS Lazio forward Ciro Immobile says Nigerian international striker will not win the top scorer award in Serie A for the 2022/23 season.
Instead the forward has predicted 19 goals for the SS Napoli forward.
Immobile said this while comparing the numer of goals Osimhen and other strikers will score in the Serie A this season.
The 32-year-old believes the Super Eagles attacker will be one goal shy of 20 and predicted the number of goals the likes of Inter Milan forward Romelu Lukaku, Lautaro Martinez, Dusan Vlahovic, Olivier Giroud, Divock Origi, Ante Rebic, Luka Jovic, Duvan Zapata, Fernando Muriel, and Tammy Abraham will score in the ongoing campaign.
"Lukaku I think will score between 20 and 25 goals, also because he has a lot of anger inside him. Lautaro? Well, either he'll do one or the other, so I think between 13 and 18," Immobile said as quoted by Football Italia.
"Vlahovic? He'll exceed 20 goals. Milan? Between Giroud, Origi and Rebic they will hit 30. Jovic? In my opinion no more than 15.
"Osimhen? I'm playing a specific number, 19 goals. I really like him as a striker. Zapata and Muriel? Between 25 and 30 together.
"Abraham? If he can put up the same numbers as last year we should start talking about a great striker. He can be between 15 and 20."
Osimhen has started the season on a high and has so far been directly involved in three goals for his team in just two Italian top-tier matches.
In the previous campaign, the 23-year-old scored 14 goals in the 27 Serie A matches played, and provided five assists in the process.
He scored 10 times and bagged three assists in the league in his first season at the club.
Overall he has scored 26 times in 53 appearances in the competition.