Incredible Fraser-Pryce matches world's fastest 100m of 2022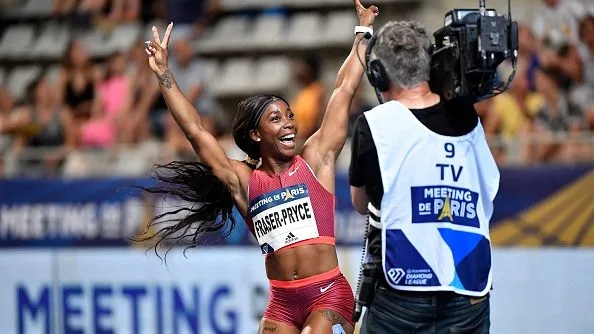 Shelly-Ann Fraser-Pryce, the 2008 and 2012 Olympic 100m champion, matched her 2022 world-leading time by clocking 10.67 seconds at the Paris Diamond League meet on Saturday.
Fraser-Pryce consolidated her favorite status for next month's world championships by equaling the 10.67 she ran on May 7 in her only other 100m race this year. Fraser-Pryce is the only woman to ever break 10.70 seconds before July 1 in any year.
This year, the next fastest woman is reigning Olympic 100m champ Elaine Thompson-Herah, way back at 10.79.
Fraser-Pryce and Thompson-Herah could go head-to-head in the 100m and 200m at the Jamaican Championships next week, though Fraser-Pryce has a bye into July's world championships 100m as defending champion.
Fraser-Pryce took a backseat last year to Thompson-Herah, including a 100m silver at the Olympics. Thompson-Herah has been challenged by injuries this spring and has yet to race against Fraser-Pryce in 2022.
At the last worlds in 2019, Fraser-Pryce became the oldest woman to win an Olympic or world 100m title.