Incredible Ofili Rewrites Her African 200m Record, Regains NCAA Lead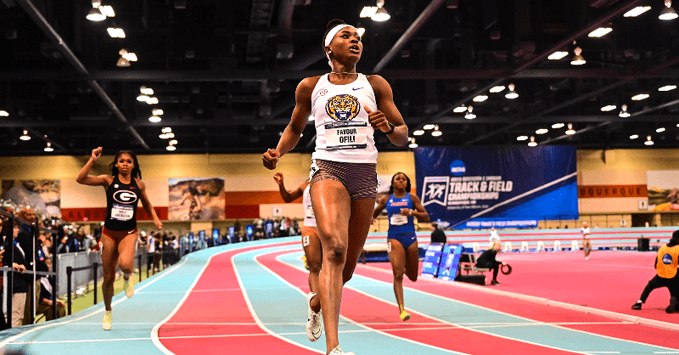 Favour Ofili was the headline performer of the first day of track and field action at the Albuquerque Convention Center in Albuquerque, New Mexico venue of the 2023 NCAA Indoor Championships after setting a new Nigeria and African 200m record to qualify for the final on Saturday.
The 20 year old was one of the four athletes projected by Sportsnow.com.ng to rewrite the Nigeria nay African 200m indoor record and she shattered the record on the opening day of competition, running 22.11 to beat her former record of 22.36 which she set less than a month ago.
Ofili's new lifetime best is also a school record, meet record, world lead, second in collegiate history, and fourth in world history. She has also regained the NCAA lead from University of Texas' Saint Lucia athlete, Julien Alfred who ran 22.26 late last month to supplant Ofili as the fastest in the NCAA this season.
The Nigerian who also qualify to run in the 60m final on Saturday after running 7.14 seconds is now the favourite to win the 200m event ahead of Alfred who ran 22.38 to emerge the second fastest on the day.
The two will now go head-to-head for the first time this season in the 200m event and the Nigerian is favoured to win with probably another African record.
The other two Nigerians in the women's 200m event, Rosemary Chukwuma and Ezinne Abba did not make it to the final.
Chukwuma placed 10th (22.80) in the final classification while Abba was last (16th) with her 23.27 run.