Irish-Nigerian Rhasidat Adeleke On Course To Creating History At NCAA Championships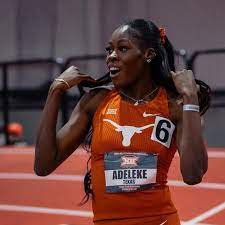 Irish-Nigerian sprinter Rhasidat Adeleke's bid to become the first Irish woman to win a NCAA Division 1 sprint title is well on course after the 20 year old qualified for the final of the400m final atthe NCAA indoor championships at the Alburquque Convention Centre on Friday.
The reigning European U20 champion and University of Texas staudent athlete ran 51.12 to come second behind Arkansas Britton Wilson (50.69) in the fourth semifinal heat and her time is the third fastest of the evening behind Wilson and Florida's Talitha Diggs (50.79).
Adeleke who has been impressive in the collegiate indoor circuit this year, breaking 51 seconds twice.
She holds a 50.33 personal best to improve the Irish record she set 21 days earlier.
For Adekele's dream to come true, she has to overcome the threat posed by pre-championships' favourite, Diggs who owns the collegiate and American record in the 400m.
Interestingly, the 20 year Diggs who is the defending champion in the event indoors and out broke Adeleke's NCAA 400m best of 50.33 minutes after the Irish-Nigerian achieved the feat at the Big 12 Indoor Championships in Lubbock, Texas on February.
Diggs ran 50.15 same day at the SEC Indoor Championships in Fayetteville, Arkansas and now stands between Adeleke and history.