Italian Media: Victor Osimhen risks losing an eye
Napoli boss De Laurentiis insists only Doctor Tartaro can free Nigerian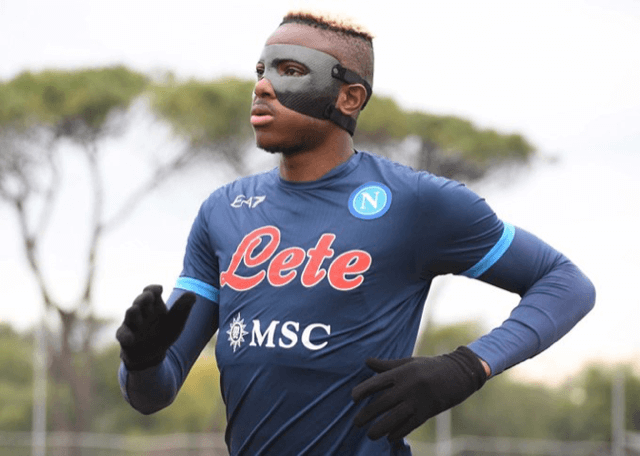 Victor Osimhen on Friday will have to be visited by Doctor Canon and Doctor Tartaro and carry out another CT scan, the examination capable of establishing his conditions with precision, according to a report in Tuesday's edition of Corriere dello Sport.
Napoli, according to the newspaper does not want to take risks and will do everything to postpone the player's return to the field. The Partenopei would like the 22 year old forward to continue his recovery in Naples instead of letting him go to the Africa Cup of Nations with Nigeria.
According to the newspaper, Osimhen underwent a check last Wednesday and will undergo another one on Friday.
"The last check took place last Wednesday before leaving for the Christmas holidays in Nigeria: if a week ago he had taken an elbow on the face, on the affected part, he would have risked a lot.
"The player risked losing his left eye; if the callus is not well consolidated it could also heal a hemorrhage, as well as a new fracture and a new surgery,"the newspaper wrote.
Meawhile Napoli President Aurelio De Laurentiis is insisting Osimhen undergoes Friday's check and that only Dr Tartaro, the surgeon who operated on him after suffering a multiple facial fracture against Inter Milan at the San Siro can give him the all clear to resume competitive football.
Tuesday's edition of Il Mattino reports thus: "There will be checks: Everything will be done scrupulously, meticulously. Aurelio De Laurentiis' imprimatur was clear, clear-cut and unequivocal. The return to the field will only take place in conditions of maximum safety".
The Neapolitan patron wants to have the maximum certainty of the recovery of his player, otherwise he will do everything to not let him leave for the Africa Cup of Nations.