Jokic, Embid, Antetokounmpo on 3-man NBA MVP shortlist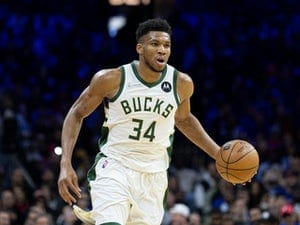 Nikola Jokic, Joel Embiid and Giannis Antetokounmpo have been revealed as the three final contenders for the 2021-22 MVP award.
2020-21 winner Jokic posted a career-best 27.1 points per game in the regular season for the Denver Nuggets, although his 25 points and 10 rebounds could not prevent his side going down 123-107 to the Golden State Warriors in their opening playoff game.
Philadelphia 76ers star man Embiid, who is still waiting for his first NBA MVP title, finished the regular season atop the scoring charts with 30.6 points per game, as well as recording a career-best 4.2 assists per game.
Embiid also had 15 rebounds to his name as the 76ers ran out 131-111 winners over the Toronto Raptors in their opening playoff battle – his 11.7 rebounds per game in the regular season were also the fifth highest in the league.
Meanwhile, 2019 and 2020 MVP Antetokounmpo also posted a career best in regular-season scoring with 29.9 for the Milwaukee Bucks, who edged a 93-86 opening playoff win versus the Chicago Bulls thanks to the Greek's 27 points and 16 rebounds.