Jorge Mendes to Napoli: Official offer for Osimhen is imminent
Reports Italian newspaper Il Mattino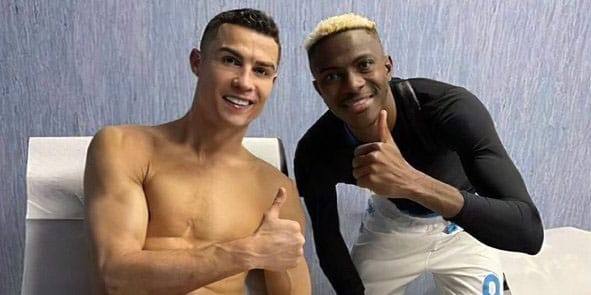 Cristiano Ronaldo manager, Jorge Mendes has reportedly told Napoli an official offer for Victor Osimhen is imminent.
Italian newspaper, Il Mattino reports that Mendes who is working on finding a new team for the Portuguese superstar who wants to play Champions League football this season believes Manchester United will make an official offer for the Nigerian soon.
According to La Gazzetta dello Sport, Cristiano Ronaldo is open to joining Napoli on loan, but a deal involving Osimhen also depends on Antony and Ajax.
Napoli seem a credible destination as their striker Victor Osimhen is a long-time target of the Red Devils and could move to Old Trafford for at least €100m.
Napoli would get Ronaldo on loan until the end of the season, with United paying his salary.
According to La Gazzetta dello Sport newspaper, Ronaldo is open to moving to the Stadio Maradona and the Partenopei are seriously considering the deal.
However, United will only make an official offer for Osimhen if they fail to sign Antony from Ajax.
The 22-year-old has recently made it clear that he wants to move to Old Trafford, but the Premier League giants have yet to reach an agreement with the Lancers.
If they abandon negotiations in the next few hours, they'll make a move from Osimhen.
Napoli boss Luciano Spalletti refused to rule out signing Cristiano Ronaldo yesterday, saying every coach would be happy to work with him.
He clarified that it would not be a swap deal given that Ronaldo would only join the Partenopei on loan, while Osimhen would leave the club permanently.