LeBron James breaks all-time NBA scoring record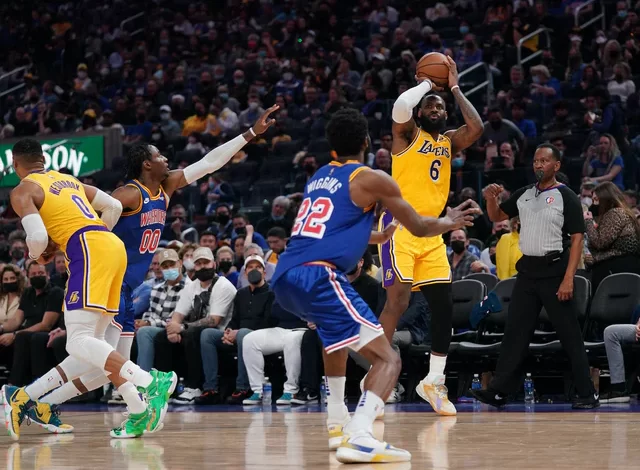 LeBron James has become the all-time leading scorer in combined NBA regular season and playoff history courtesy of a 26-point haul in Los Angeles Lakers' 117-115 defeat to Golden State Warriors.
The 37-year-old went into the match needing 19 points to surpass Kareem Abdul-Jabbar's previous record of 44,149 points.
James passed the landmark figure early in the second half, sinking a three to become the player with the most points in NBA history – ending the game with 44,157.
The achievement is largely viewed as an unofficial one, with greater emphasis being put on the all-time regular scoring record – a list where James currently sits third.
James has chalked up 35,526 points within the regular season, less than 500 behind Karl Malone in second (36,928) but still some way short of Abdul-Jabbar's record (38,387).
However, the four-time NBA champion and MVP has scored more post-season points than any other player (7,631) to lift him above Malone and Abdul-Jabbar in the overall all-time standings.
"It's hard for me to speak on it now because I hate doing anything when it comes in a loss. And we had an opportunity to win a big game tonight," James told reporters after the match.
"Been appreciative of the opportunity to play this game at the highest level. I love the game of basketball. I love being a part of the NBA and being able to inspire so many different sets of generations. I guess, it's a pretty big deal.
"In all my career, any time I've been linked with some of the greats, I've always just been in awe."
James has now scored at least 25 points in each of his last 22 games – the longest such run of his career.