LSU Alumni Gold meet: Ofili seeking to make African sprint history
Nigerian hoping to become first woman to run 11s in 100m and sub 22 seconds in 200m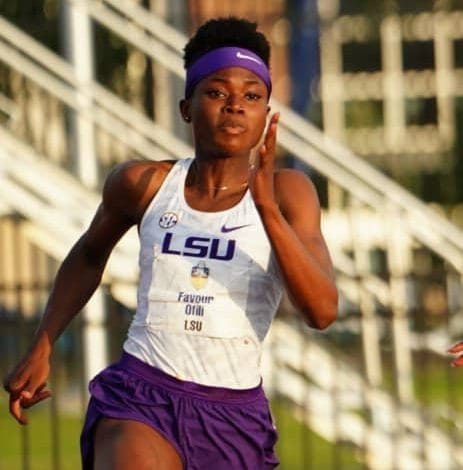 Favour Ofili will be seeking to become the first woman in African sprint history to go under 11 seconds in the 100m and 22 seconds in the 200m when she files out for the blue ribband event at the LSU Alumni Gold meet at the Bernie Moore Track Stadium, Baton Rouge, Louisiana.
The 19 year old has made history as the first and only Nigerian woman to go under 23 seconds in the 200m indoors and under 22 seconds outdoor.
On Saturday she will be hoping to go under 11 seconds in the 100m for the first time in her already storied career, a feat that will confer on her an achievement unprecedented for a sprinter in the African continent.
All eyes will thus be on the new African sprint sensation to see if she could replicate her incredible feat of last week at the Tom Jones Invitational, Percy Beard Track, Gainesville, Florida where she became the first Nigerian and second African woman in history to run inside 22 seconds in the half lap race courtesy her 21.96s Nigerian record setting performance.
The Nigerian, triple medallist at the World U20 Championship last year in Nairobi, Kenya will be hoping the presence of Aleia Hobbs, Mikiah Brisco and Dezerea Bryant can push her into the African sprint history books.
Hobbs,the 2018 NCAA 100m winner, Brisco who was crowned NCAA 100m champion in 2017 and Bryant, the 2015 NCAA 200m champion have all broken 11 seconds in the blue ribband event.
Ofili will not be the lone Nigerian in action at the event Mercy Ntia-Obong will run in section three of the five 100m sections.
In the 200m event, Ese Brume, the Tokyo Olympics bronze medal winner will be a surprise participant as she will run in section 1 of five half lap sections while in the men's version, Godson Oghenebrume will run in section two of the five sections.
Brume will also be in action in the long jump event at the meeting.