Martinelli, Ronaldo, Saka top Shearer's Premier League Team of the Week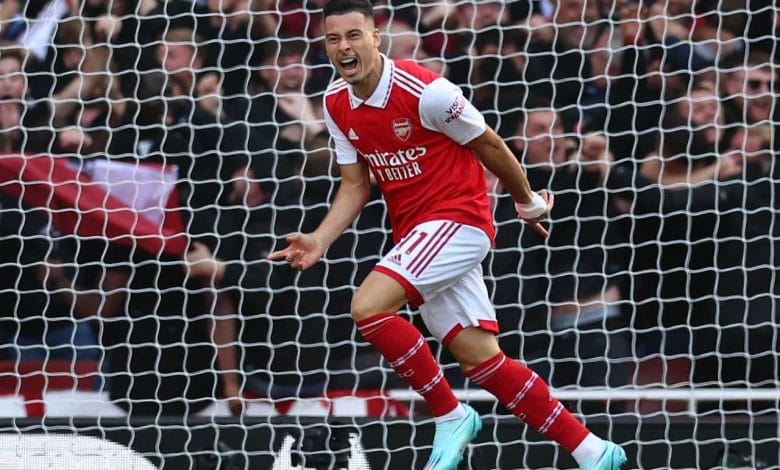 Arsenal trio of Gabriel Martinelli, Takehiro Tomiyasu and Bukayo Saka as well as Manchester United's Cristiano Ronaldo top the list of Premier League's record goalscorer and a Hall of Fame inductee, Alan Shearer's Team of the Week.
Shearer who scored 260 goals and bagged 64 assists in 441 appearances in the competition believes Martinelli, the 21 year old forward who joined Arsenal in July 2021 was Liverpool's tormentor-in-chief in their 3-2 loss to Arsenal at the Emirates stadium on Sunday.
Martinelli was at his very best in the game, scoring an early opener and creating another goal in Arsenal's first victory over Liverpool in over 10 games in the competition.
The Brazilian has made a fine start to the season and was eye-catching yet again as he helped the Gunners reclaim top spot in the Premier League.
"Liverpool couldn't handle his runs in behind, his quick feet or his vision. He fully deserved his goal and assist," wrote Shearer in his analysis on Premier League's website.
Shearer also named record-setting Ronaldo obviously for his incredible numbers in front of goal.
"He needed just 15 minutes as a substitute to score his 700th club goal. His numbers are absolutely incredible."
Arsenal's Saka who scored two of the three goals on Sunday made the cut.
"He timed his run brilliantly for his first goal and then withstood the pressure to convert his penalty and clinch a massive three points," Shearer wrote.
Tomiyasu was named in the week's best X1 for "keeping Mohamed Salah very quiet despite playing out of position at left-back."
Shearer also named Tottenham's Hugo Lloris as the goalkeeper, Manchester City duo of Joao Cancelo and Phil Foden as well as Bruno Guimaraes, the Newcastle Brazilain who scored two brilliant goals in the 5-1 mauling of Brentford.
Newcastle's Kieran Trippier, "another skipper who led by example, setting up the opening goal with a superb cross" also made the list with Chelsea's Mason Mount and West Ham's Lucas Paqueta who 'was at the heart of everything good that West Ham United did, and set up their second goal" completed the list.
Arsenal manager, Mikel Arteta was named coach of the week after leading the Gunners to "an impressive win against Arsenal's bogey team to take them top of the league again."