Moses Simon: Eguavoen has given me 'more attacking freedom'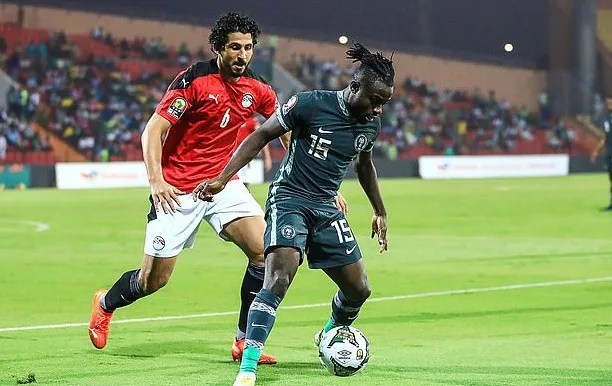 Nantes of France winger Moses Simon is eyeing a second successive win for the Super Eagles in a group phase of the Africa Cup of Nations when they play Sudan Saturday in their second group D game.
Nigeria won their opening game (1-0 against Egypt) in an Africa Cup of Nations for the second tournament running, having failed to win their first match in four of their previous five appearances (W1 D1 L3). The Super Eagles are looking to win their opening two matches to an Africa Cup of Nations in consecutive tournaments for the very first time.
"I'm happy to beat Egypt, the great team with great players. I'm also happy because it was my best match in a long time. The way I play has changed and now the coach is giving me more attacking freedom. We hope to achieve a good result against Sudan to ensure qualification,' said Moses Simon who was the tormentor-in-chief on the Egyptians.
Nigeria and Sudan are meeting for the third time at the Africa Cup of Nations, but it's their first encounter at the tournament for 46 years. Sudan won the first match 4-0 in the 1963 group phase whilst Nigeria won the second 1-0 in 1976.
Moses has however warned that the Sudanese should not be underrated.
"The game against Sudan is something we just need to be careful with because now in Africa, there is no small team," Simon said after Wednesday's training session at the VSTS-ANNEX, Roumde Adija Stadium, Garoua.
"So, of course, we just need to go all in all. The way we took the game against Egypt is likewise the same thing that we are going to do against Sudan. We have to do our best and give 100 per cent to have three points."