NANS wants Sunday Dare as Minister of Education
Extols the Virtues of former Sports Minister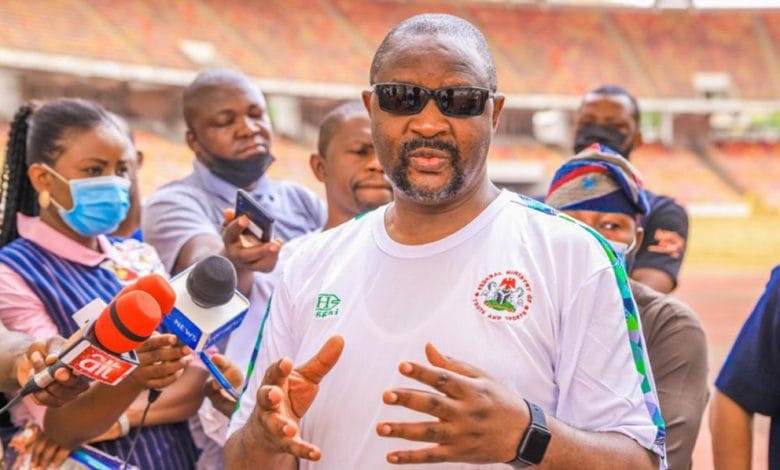 The National Association of Nigerian Students (NANS) has made a passionate plea for Honorable Sunday Dare, to be given a fresh opportunity in the government
of President Bola Ahmed Tinubu, to further entrench his very successful policies and achievements, in youth development, while serving as Minister of Sports
and Youth Development, in the last four years.
The national president of NANS, Usman Umar Barambu made the clarion call, in Abuja, after an emergency national executive council (NEC) meeting of the
association, held in Abuja on Tuesday.
In the words of the NANS President, 'I want to crave the indulgence of President Bola Ahmed Tinubu to consider one of his loyalists, Chief Sunday Dare, who in the last four years rendered meritorious service, under the regime of President Muhammadu Buhari.
As Youth and Sports Development Minister, his performance, ranked him among the best Nigeria has ever had. Moreso, his commitment, diligence, attitude to
work and most essentially his ability to always give youths a listening ear.
Brambu recounted that it was during his time as Minister of Youths that the very first National Youth Conference and National Youth Investment Fund (NYIF)
held; whilst the monthly allowance paid to Youth Corps members was substantially increased from N20, 000 to match the current minimum wage of N33, 000 Naira.
"We had Digital trainings for more than 30,000 Nigerian youths, from across the nation, a lot of youth Initiative Programs came into being, during his
regime, and for the first time, a Sports Minister gave the same attention to both the youths and Sports components of the Ministry", he posited.
He went on to describe Chief Dare as a rare gem, and canvassed that President Tinubu should keep hold of him, by assigning him to take charge of youth
oriented ministries like education or return him back to the Ministry of Youth and Sports, because he has shown beyond doubt, that he is the Man for the Job.
"I suggested education because he already knows where the shoe is pinching, his policies having had a lot to do with the education ministry, in the last four
years'.