NBBF Final 8: Rivers Hoopers edge Gombe Bulls to record consecutive wins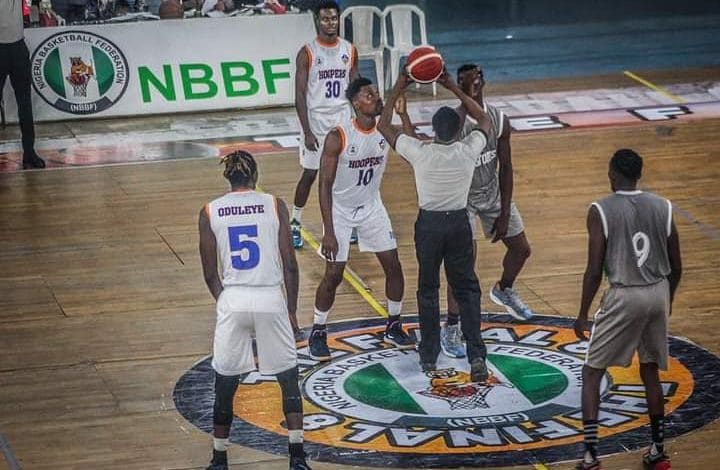 Rivers Hoopers Basketball Club continued their impressive start to the NBBF Final 8 as they earned a 67-60 victory over Gombe Bulls on Tuesday in Lagos.
Johnson Anaiye led the way with 13 points, going 4/6 from the 3-point range, while Hoopers' captain Victor Anthony Koko had a great game from both ends shooting 12 points, 12 rebounds and 4 blocks in the game.
The KingsMen held a 13 point lead going to the break and extended it to 25 points midway through the third quarter.
Gombe Bulls fought back to cut the lead to 4 with 50 seconds remaining on the clock but Anaiye hit a 3 as Hoopers ran down the clock and ensured they recorded their second consecutive victory.
The win was the KingsMen's fourth straight win against Gombe Bulls since 2016.
For Rivers Hoopers head coach, Ogoh Odaudu, the result was all that mattered on the day.
"I don't care if it's a half point or one point win, a win is a win and we will go away with it."
Odaudu was not so pleased they gave up a 25 point lead midway through the third quarter to win by 7.
"I am not too pleased with my boys, but we will have a discussion when we return to the hotel tonight," he said.
"You cannot have a team down by over 20 points and let them get back to a 4, or 5 point game. We have to address it, we can't play basketball like that".
Rivers Hoopers will next play Kano Pillars at 4pm on Wednesday at the Indoor Sports Hall, National Stadium, Surulere, Lagos.