NCAA 2022 Indoor Championship: Ofili, Chukwuma, Ashe, Odugbesan Top List Of 'Nigerian Qualifiers'
Bamidele, Ineh, Usoro, Akintola and Erhire also in contention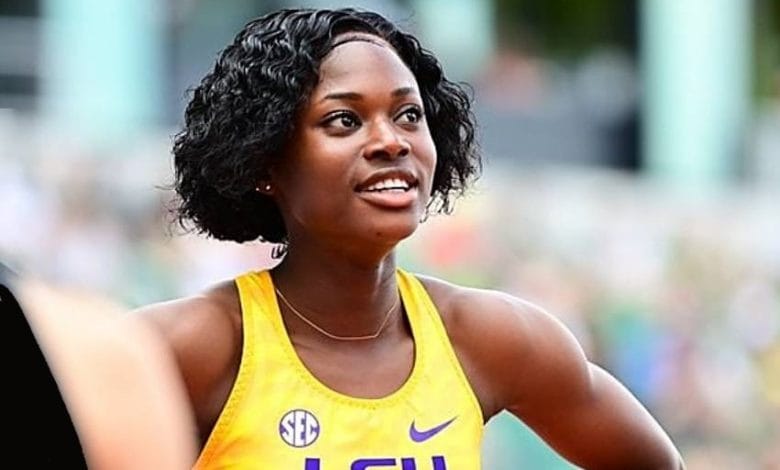 Favour Ofili  tops the list of Nigerian students who will be in action at the NCAA Division 1 2022 Indoor Championship starting next week in Alabama.
Ofili who moved up to No. 3 in the NCAA thanks to her personal best of 22.46s in the 200m will be competing in the 60m, 200m and the 4x400m events for her school, Louisiana State University.
The 19 year old will however be looking forward to the half lap event where she will only be thinking about outrunning and out-dipping world leader Abby Steiner (22.09S) of University of Kentucky and Ohio State University's Anavia Battle (22.39s).
Also on the list are Rosemary Chukwuma who scorched to a new 7.17s personal best to win the 60m event at the Big 12 Championship last weekend and Favour Ashe who has broken 6.60s twice and holds a personal and African leading mark of 6.52s in the men's 60m.
Both will have to set new personal and probably African record times to stand a chance of making it to the podium.
In the triple and long jump events for the women, Ruth Usoro will have to recreate her incredible, all conquering and record setting performances of last year to stand any chance of a podium appearance especially in the latter event.
The 24 year old is ranked fifth in both the long jump and triple events coming to the championship with her respective 6.59m and 13.66m personal season's bests.
Jasmine Moore of Florida leads the pre-championship top list with 6.75m in the long jump and 14.55m in the triple.
In the men's 200m, reigning National Sports Festival 200m champion, Alaba Akintola will be hoping to improve on his 20.72s personal best to challenge for his first NCAA Indoor Championship medal.
The Middle Tennessee University freshman is ranked 13th in the 16-man list of qualifiers with Georgia's Matthew Boling leading the pack with 20.27s.
Emmanuel Bamidele (46.06) of Texas A&M will run in the men's 400m while Omamuyowi Erhire of Middle Tennessee University will compete in the high jump event where he is ranked sixth coming to the championship.
Emmanuel Ineh will compete in both the men's long and triple jumps while Isaac Odugbesan will be seeking to improve on his 20.71m personal best which he threw to win the SEC championship last month in Texas.Both will be competing for University of Alabama.
The NCAA Division 1 2022 Indoor Championship will hold from March 11 to 12 at the Birmingham CrossPlex, Birmingham, Alabama.