Nigeria begins chase for 2024 Paralympics tickets in Italy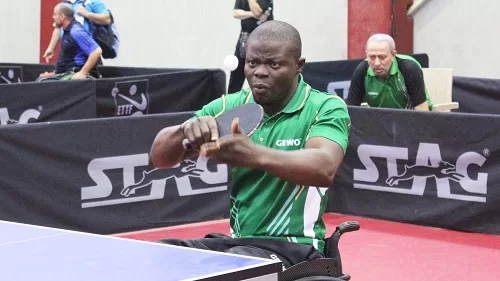 Nigeria will join the rest of the world to compete at the ITTF Lignano Masters Para Open which serves as a pathway to the Paris 2024 Paralympic Games in France.
The tournament which began on Wednesday March 15 in Italy had more than 100 players competing at the four-day championships in their bid to shore up ranking points for qualification to the 2024 Games.
A 15-man Nigerian contingent was sponsored to the event by the Delta State government and the team has Commonwealth Games medalists – Isau Ogunkunle, Nasiru Sule and Faith Obazuaye all aiming to garner points to be certain of their eventual qualification for Paris 2024.
Aside the Commonwealth Games trio, others in the contingent include Tokyo 2020 Paralympics bronze medalist Tajudeen Agunbiade, Olufemi Alabi, Victor Farinloye, Kayode Alabi and Bolawa Akingbemisilu
'Others are Ibrahim Soares, Faith Obiora, Ifechukwude Ikpeoyi, Maimuna Habib, Kehinde Lawal, Ganiyat Shoremekun and Ahmed Koleosho. They are expected to compete in the singles, team and doubles' events.
Captain of the team Agunbiade hailed Delta for their immense support to the team while pledging to make the country proud in Italy.
Manager of the team Sunday Odebode said the team is in good shape to do well.
"The team is really prepared despite being training during the election period and the situation of the country.
'We still managed to get approval from Delta state government to sponsor the team on the pathway to the Paris 2024 Paralympics.
'This is our first tournament of the year and Nigeria will also be hosting a tournament on the pathway to Paris in Lagos in October," he said.