Nigeria Women's 4x100m Relay Team Targets Gold, New African Record At Commonwealth Games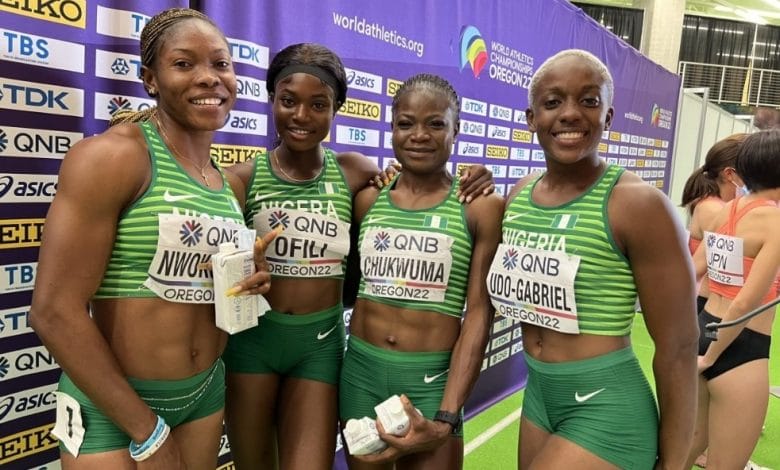 Nigeria women's 4x100m relay quartet of Joy Udo-Gabriel, Favour Ofili, Rosemary Chukwuma and Grace Nwokocha will be going for gold and a first ever sub 42
seconds in the event at the Commonwealth Games which start later this week in Birmingham,United Kingdom.
The team ran a new 42.22 seconds African record to place fourth in the 4x100m final at the World Athletics Championships in Oregon, USA.
'We are going for gold in Birmingham at the Commonwealth Games,' says Ofili who ran the second leg in the African record setting race.
Chukwuma and Udo-Gabriel agreed and are confident they can do it.
The Nigerian ladies are also confident of becoming the first African country to run inside 42 seconds in the event.
'We have all been running very fast in our individual events and I believe if we can get the baton exchange right, we can achieve it,' added Ofili who has a
10.93 and 21.96 seconds personal best in the 100m and 200m respectively.
Chukwuma has also broken 11 seconds (10.99) in the 100m this year while Nwokocha, who emerged the 100m champion at the Nigerian championships in Benin City
last month has also gone under 11 seconds (10.97) this season.
The team had the lowest rating in baton exchange execution among the contenders in both the semifinal and the final but the ladies are optimistic that
can be addressed in Birmingham.
Nigeria has won the women's 4x100m gold only once at the Commonwealth Games and that was some 28 years ago in Victoria, British Columbia with the quartet of Faith Idehen, Mary Tombiri, Christy Opara-Thompson and Mary Onyali setting a then 42.99 seconds Games record.