Nigeria Wrestling Federation Rolls Out Robust Plans For 2022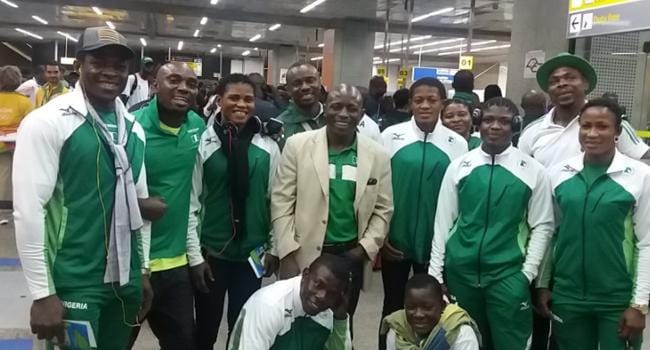 In a bid to consolidate on its achievements last year, the Nigeria Wrestling Federation (NWF) has rolled out a robust programme of activities for 2022.
In a historic 2021, 10-time African champion and Commonwealth gold medallist Blessing Oborududu became the country's first-ever medal winner at the Olympics, claiming silver in the 68kg category at the Tokyo 2020 Games, while 19-year-old African Champion Esther Kolawole also made history by winning a bronze medal at the U-23 World Championships in Belgrade, Serbia in November – the first Nigerian wrestler to achieve that feat.
Speaking through its President Hon. Daniel Igali, the NWF informed that plans are underway for Nigerian wrestlers to participate in a national championship – the Gov. Douye Diri Wrestling Classics and a lot of international tournaments to get her athletes ready for the challenges ahead.
"This is another big year for us," the World and Olympic champion said. "We are going to start up the year with a couple of international tournaments in France and in Italy.
"The one in Italy (Matteo Pellicone) is a Ranking Series tournament. We also have another one in Istanbul (Yasar Dogu), a Ranking Series tournament, in February. And then, in the later part of March, we would have the Gov. Douye Diri National Wrestling Classics, and that's what we will use to choose the national team that will represent us at the African Championships that will be taking place in Morocco in May.
"That is also going to be the first stage of selection for the Commonwealth Games. You know we have the Commonwealth Games in Birmingham this year. We've done quite well at the Commonwealth Games; it's a big competition for Nigeria, and we are hoping to set the stage for the rest of the year with those two tournaments.
"And of course, we have the World Championships (in Belgrade, Serbia) later in the year."
In addition to ensuring that Nigerian wrestlers excel this year in the aforementioned competitions, the Bayelsa State Commissioner for Youth and Sports disclosed that his board is poised to attract sponsorship to the sport, which will help them realize their goals.
"Our goal this year is also to focus a bit more on the business side of sport," he revealed.
"We have quite a number of board members that we feel will help a lot with canvassing for sponsorship. So, we'll put a lot of attention to that.
"Without funds, the wrestling federation can't really plan, and I think that's been the biggest bane, not only of the federation, but of other sports as well.
"We hope to, again, have about three, four of our athletes ranked in the top 10 in the world, and hope that, like Blessing Oborududu did this year where she won Three Thousand Dollars ($3000) at the end of year competition, that next year we would be able to have quite a number of athletes earning money from UWW (United World Wrestling) as a result of their performances over the year," he concluded.