No Cause For Alarm: Osimhen Reassures Napoli Fans Over Injury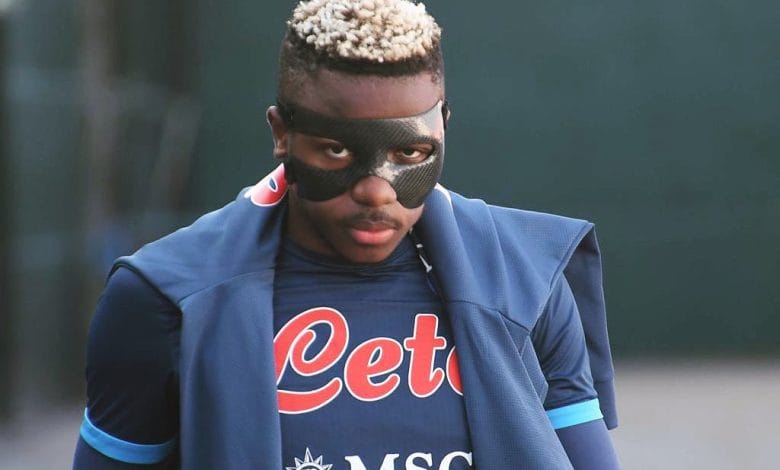 Victor Osimhen says there is no cause for alarm after he was reported injured during Napoli's training session on Wednesday.
The 23 year old Nigerian international forward has however reassured Napoli fans that he'd be available against Fiorentina on Sunday.
Osimhen was forced off the pitch early during Wednesday's training session at Castel Volturno.
Napoli reported in an official statement that Osimhen had suffered an injury to his left thigh, causing concern over the striker's availability for the upcoming home game with Fiorentina.
However, the 23-year-old reassured the Partenopei fans with an Instagram story where he said he'd be available against Fiorentina on Sunday.
"Dear Napeolitans, see you guys on Sunday," the striker wrote.
Osimhen has played a key role for Napoli this season, scoring 15 goals in 25 appearances across all competitions. He spent nearly two months on the sidelines due to a cheekbone injury and is now playing with a protective mask.
Napoli are just one point behind table leaders Milan with seven points remaining. They've won the Scudetto twice in their history, the last time in 1989-90.
Meanwhile, Napoli confirmed Thursday morning that exams undergone by Osimhen have ruled out injuries so the striker will be available against Fiorentina.
"After complaining of a feeling of discomfort during training on Wednesday Victor Osimhen was seen to by the club's medical staff. The Nigerian forward underwent tests and it was determined that he hadn't suffered an injury," they said in a statement.
"Today (Thursday) Osimhen followed a personalised schedule in training, covering gym and pitch work."